ZSK Vision System
Die Lösung für unterschiedliche Toleranzen
ZSK Vision System – The Solution for Different Tolerances
With our ZSK Vision System for single head embroidery machines, you can overcome different tolerances and achieve perfect results. The camera system has been specially developed to meet tolerances of approx. +/- 0.3 mm, as these are unique for each part. Quilting, embroidery and cut, perforation and lamination can be easily combined in one design.
Use with Single Head Embroidery Machines
Our ZSK Vision System can be installed on our single head embroidery machines. Single head machines are the only way to overcome different tolerances. Our servo-controlled CNC machines can be programmed with the CAD system epcwin. This loads DXF files and creates both the sewing file and the zepl file to control the camera system.
Data Adaptation in Real Time
By using our ZSK Vision System, you can also compensate for tolerances resulting from previous processes, shrinkage during the embroidery process or linear expansion. It checks the actual position of i.e. the perforation holes during the embroidery process and can adjust the embroidery data in real time.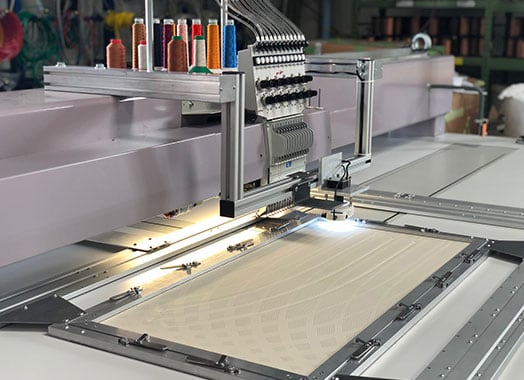 Einsatz mit Einkopf-Stickmaschinen
Unser ZSK Vision System kann auf unseren Einkopf-Stickmaschinen mit MCP-35 und Servoantrieb installiert werden. Einkopf-Maschinen sind die einzige Möglichkeit, unterschiedliche Toleranzen zu überwinden. Unsere Servo-gesteuerten CNC-Maschinen können mit dem CAD-System EPCwin programmiert werden. Dieses lädt z.B. DXF-Dateien und erstellt sowohl die Nähdatei als auch die ZEPL-Datei, um das Kamerasystem zu steuern.
Die ZEPL-Datei sorgt für die Prozess-Automatisierung. Die ZEPL-Datei kann ausschließlich im EPCwin programmiert werden und sorgt dafür, dass die Kamera die richtigen Positionen auf dem Werkstück kontrolliert.
Um die richtige Positionierung des Werkstückes in der Maschine zu gewährleisten empfehlen wir einen passenden Rahmen für das Werkstück, wo idealerweise das Werkstück auf Pins aufgenommen wird.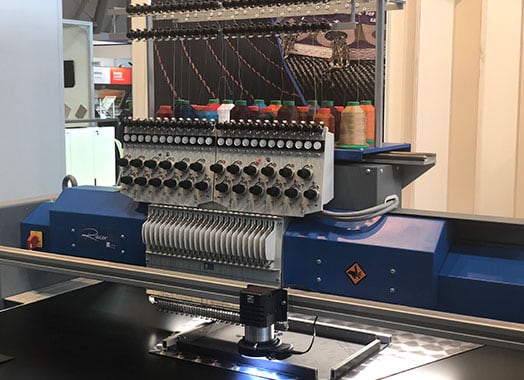 Daten-Anpassung in Echtzeit
Durch den Einsatz unseres ZSK Vision Systems gleichen Sie auch Toleranzen aus, die aufgrund vorhergehender Prozesse, Schrumpfung während des Stick-Prozesses oder linearer Dehnung entstehen. Es prüft die tatsächliche Position der Perforationslöcher während des Stick Vorgangs und kann die Stick-Daten in Echtzeit anpassen.
Wichtig hierbei zu beachten ist die Einschränkung auf lineare Veränderungen. Wenn Leder von Hand auf Schaum verklebt wird und von Hand gezogen wird, verändert sich die Positionierung der Perforation nicht linear. Solche Veränderungen können auch durch ein Vision System nicht ausgeglichen werden.
OPS 1 versus OPS 2
OPS ist die Entwicklungsbezeichnung für das Vision System und steht für Optical Positioning System. Wir unterschieden mit zwei Systemen die Komplexität der Anforderung. Das OPS 1 kann Elemente erkennen (z.B. auf einem gewebten Band) und positioniert ein Muster dann mit den entsprechenden x und y Koordinaten und dreht das Muster bei Bedarf.
Das OPS 2 System erkennt zwei Punkte, Farbunterschiede oder Materialunterschiede. Auf dieser Basis wird dann nicht nur die Positionierung berechnet, sondern auch das Muster kann gestreckt oder gestaucht werden.
Kombination mit Spulenkapselwechsler
Das Vision System kooperiert problemlos mit ZSK Zubehör. Wenn eine Produkt mit Näherei und Stickerei versehen werden soll, kann dies durch das Vision System gesteuert werden und der AutoSelect Spulenkapselwechsler der Stickmaschine sorgt parallel für die Wahl des richtigen Untergarns und der Spulenkapsel mit der richtigen Spannung.
Beratung und Musterung
Zum Erfolg eines jedes Projektes gehört die richtige Vorbereitung. Das Stickatelier der ZSK ist ausgestattet mit Musterungsmaschinen inklusive dem ZSK Vision System. Wenn Sie Interesse haben mehr zu lernen oder Erfahrungen zu sammeln, stellen Sie uns gerne Ihr Werkstück und DXF-Datei zur Verfügung und wir können mit Musterung und Taktzeit Analyse unterstützen.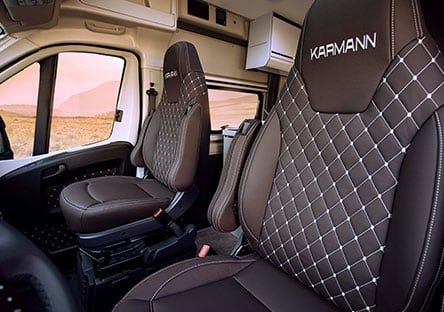 Case Study - Rühl Leder
Das in Mülheim a.d. Ruhr (NRW) ansässige Traditionsunternehmen Rühl Leder zählt seit Mitte 2018 zu den Kunden der ZSK Krefeld.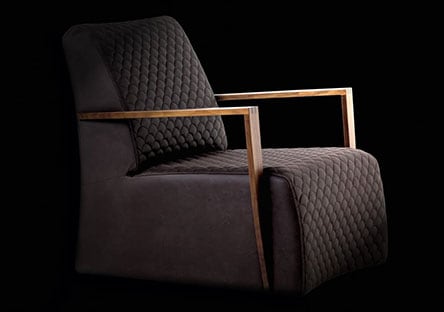 Lederstickerei
Unsere ZSK-Stickmaschinen sind seit Jahrzehnten als echte Arbeitstiere bekannt und sticken selbst auf schweren...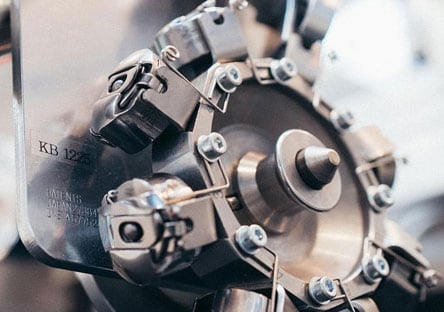 Spulenkapselwechsler
Produktivitätssteigerung um bis zu 15 % –mit unserem Spulenkapsel-Wechsler-System (SKW) können Sie die Effizienz Ihrer...
Always stay up to date
Subscribe to Newsletter
Your message to us
Contact