Universities
The embroidery industry and universities have a very close link. For decades digitizing used to be an educational degree in some schools in Europe. Sadly, the majority of these courses no longer exist. Digitizing is a true craft and some of the best digitizing experts at ZSK have studied digitizing in school before starting at ZSK.
Technical embroidery for both composites and e-textiles is todays focus in many universities around the world. ZSK offers special educational packages and free digitizing software licenses as long as they are used for educational purposes.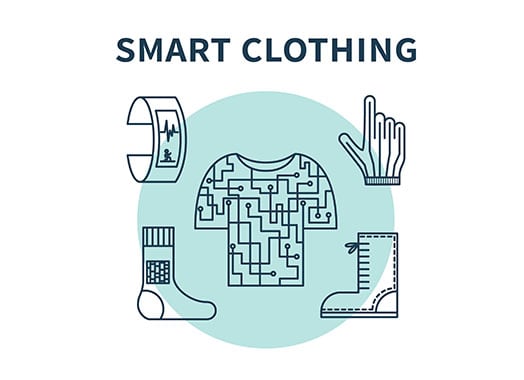 The ZSK Team at the ZSK Seattle Research & Training Center have created a library of training videos for teachers and students in schools for both educational purposes as well as projects to be completed in class. Embroidery machines such as the JGVA 0109 – a laboratory sized triple combination machine – is a popular example of a machine used in educational environments as it offers students the opportunity to get to know all embroidery techniques and capabilities.
Student Project on Smart Home Textile: Hochschule Niederrhein partners with ZSK STICKMASCHINEN
ZSK STICKMASCHINEN partners with Hochschule Niederrhein to encourage students to get an insight into the advanced usage of embroidery machines in the textile industry with engaging academic projects.
ZSK Benefits for Universities
Digitizing Software
For educational (non-commercial) use ZSK offers free licenses for EPCwin und GiS BasePac Digitizing Software for the perfect education for future digitizers.
Bachelor and Master Thesis
Every years 2 to 3 students complete their Bachelor or Master Thesis at ZSK.
Students write their thesis in field of Engineering, Fashion Design and Technical Embroidery.
In many cases this period is combined with an internship at ZSK to learn the insights of the embroidery industry at the same time.
Research Projects
You are looking for an industrial partner for a research project you are planning to start in the field of design, technical embroidery or e-textiles?
We have partnered with many universities and have joined great projects and enjoy being part of projects that find new applications for our embroidery machines.
Internships
The ZSK Training and Research Center in Seattle as well as the ZSK Headquarter in Krefeld offer places for student internship.
If you are interested to spend an interesting summer in Seattle, then apply to ZSK for a paid internship in the field of Technical Embroidery. The Seattle summer internship takes between 2 to 3 months and involves learning about technical embroidery and e-textiles. During the internship students will work on both customer projects as well as projects chosen by the students. The internship can be a great career start and we have seen several students starting to work for our international customers after an exciting internship at ZSK.
Internships at ZSK in Krefeld can be anything between 4 weeks and paid part time jobs beside the university education. ZSK generally has 2 to 3 students in Krefeld that support our application engineering team and the smart textile team.
The Krefeld internship offers the unique chance to gain real life experience on topics taught in theory at university.
Student Projects
ZSK embroidery machines can be found in more than 40 universities around the world. Beside the initial training, ZSK provides teaching resources to teachers and supports research projects.
The project with HS Niederrhein in Germany is one example where students and staff at ZSK worked together successful to use students ideas and combine it with ZSK solutions for successful student projects.
Teaching Resources are provided by our Seattle team. Videos are available for sample projects with Step by Step guides for successful use of our technology in class.
Training
Whenever a new ZSK embroidery machine is purchased by a University, ZSK offers special training classes for both students and teachers.
The training typically lasts 1 to 2 weeks and includes operational as well as digitizing and application training.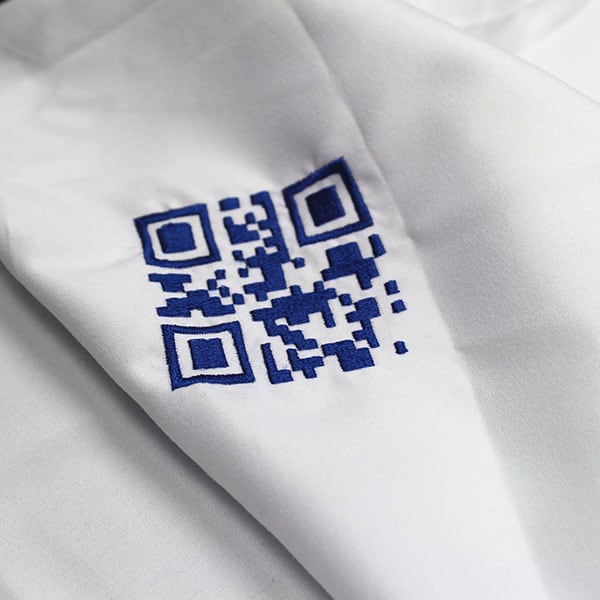 QR Code
Useful strange pattern
QR codes have become a very useful tool in sharing information and resources very quickly.
This can come in handy during trade shows, meetings, or networking.
F-head embroidery has the ability to quickly and cleanly add QR codes to materials while providing options for scaling and adjustments. This technique can be easily applied to things like tablecloths, samples, or handouts.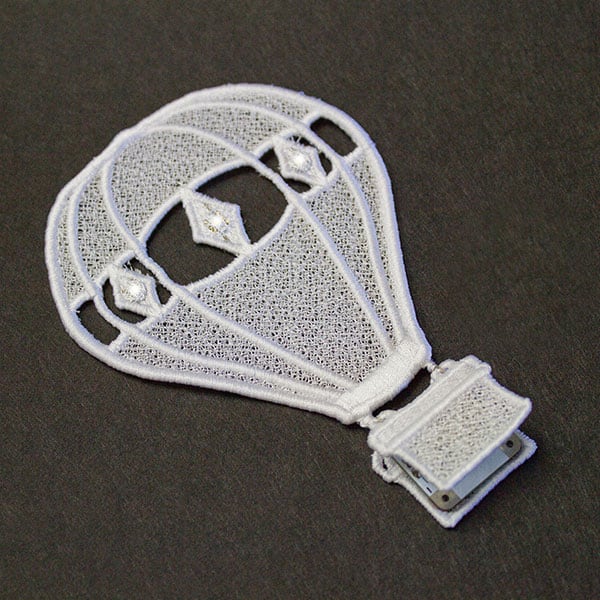 eLace
Embroidery
Combining ZSK's technology for accurate LED sequin placement, conductive thread, and free-standing lace techniques.
Embroidery machines, used with dissolvable backing material, have the ability to create free-standing lace. Often seen as a decorative piece, these lace products can now include lights or sensors by integrating sequins and conductive thread in a fully automatic process.
The conductive thread is easily hidden within design elements of the piece and connect directly to the battery carrier (here provided by Teknikio). Thread tension, small stitch distances, and layering all play a part in creating a piece that is stiff enough to hold its shape and pattern once the backing is dissolved away.
This technique creates opportunity in taking something that has been seen as purely decorative for centuries and adds the possibility of blending it with function.
Always stay up to date
Subscribe to Newsletter
Your message to us
Contact