Carl - The ZSK STICKMASCHINEN Customer Magazine
We are proud to launch "Carl" - the new ZSK STICKMASCHINEN customer magazine. We plan to publish the magazine twice per year in spring and autumn, to present updates about ZSK STICKMASCHINEN, our embroidery machines and accessories.
Additionally, we will include interesting information around embroidery and technical embroidery, that you might find useful.If you have suggestions, ideas, or topics of interest that you would like to find in our magazine, please reach out to anyone at ZSK STICKMASCHINEN.
CARL - The ZSK Customer Magazine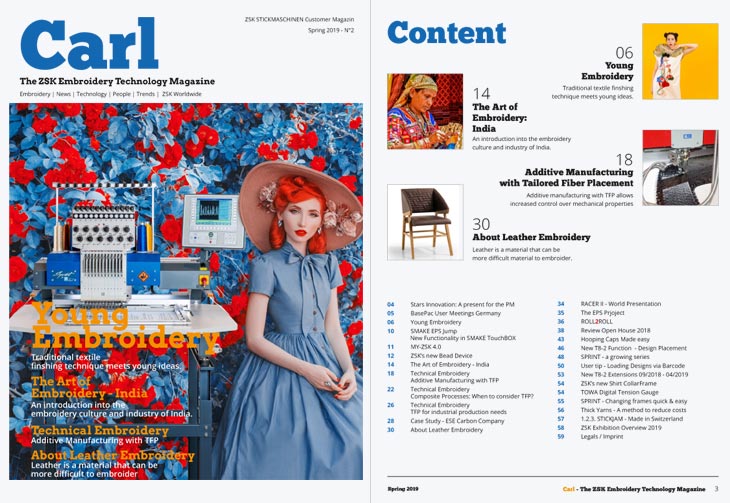 Young Embroidery
MY.ZSK 4.0
ZSK's new Bead Device
The Art of Embroidery - India
Technical Embroidery - Additive Manufacturing with TFP
Technical Embroidery - Composite Processes: When to consider TFP?
About Leather Embroidery
New T8-2 Function - Design Placement
SPRINT - a growing series
User Tip - Loading Designs via Barcode
New T8-2 Extensions 09/2018 - 04/2019
Thick Yarns - A method to reduce costs
Our trade fair dates
Come and discover the potential of our ZSK embroidery machines for your business!