Carl - The ZSK STICKMASCHINEN Customer Magazi
We are proud to launch "Carl" - the new ZSK STICKMASCHINEN customer magazine. We plan to publish the magazine twice per year in spring and autumn, to present updates about ZSK STICKMASCHINEN, our embroidery machines and accessories.
Additionally, we will include interesting information around embroidery and technical embroidery, that you might find useful.If you have suggestions, ideas, or topics of interest that you would like to find in our magazine, please reach out to anyone at ZSK STICKMASCHINEN.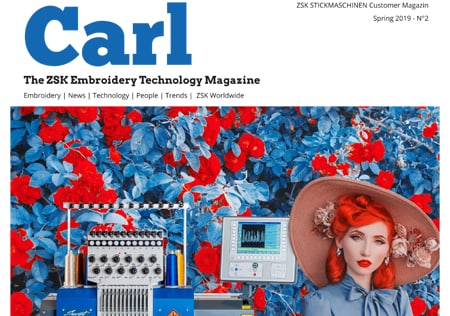 Carl Magazin spring 2019
This issue is full of color! We dive into the art of Indian embroidery, watch how young designers work traditional embroidery into their modern designs and explore the world of embroidering leather. You will also find plenty of interesting topics like TFP, Smake and our EPS-project.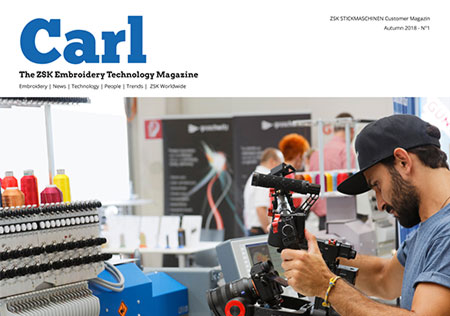 Carl Magazin autumn 2018
New machines, technical embroidery, exciting events and creative innovations - in the first issue of our magazine you will get a comprehensive insight into the world of embroidery! Discover tips on financing, troubleshooting, and sportswear embroidery, and more.

Our trade fair dates
Come and discover the potential of our ZSK embroidery machines for your business!
ZSK Stickmaschinen GmbH
Magdeburger Str. 38-40
47800 Krefeld
Germany
Fon: +49 (0) 2151 444-0
E-Mail: zsk@zsk.de
ZSK USA Inc.
990 Industry Drive
Tukwila, WA 98188
USA
Fon: +1 717-706-7702
E-Mail: topher@zsk.de
Your message to us
Contact