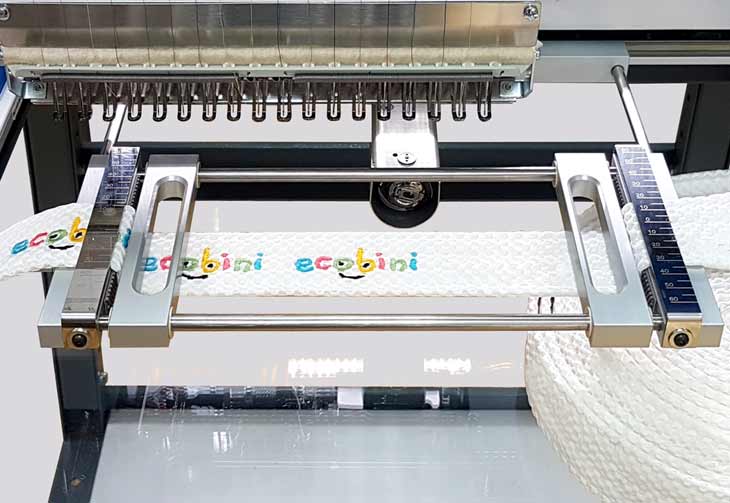 SPRINT
New Magnetic Belt Frame
This new hoop for ZSK series SPRINT was developed for applications like ribbons, sashes, mattress handles, dog leashes, judo / karate belts, straps and many other similar products.
As a special feature, the frame is equipped with strong magnets for quick and easy clamping. The frame offers a maximum embroidery area of 90mm / 3.6 " in depth and 200mm 7.9" in width. It can be used to embroider individual motifs or to pull through the material for longer designs.
Measuring scales are attached to the left and right for precise alignment. In addition, we offer a helpful pull-out service table for the series SPRINT, on which, for example, rolls of material can be stored.
Parts
Magnetic Belt Frame - Part No.: 270.010.723
Service Table - Part No.: 360.010.913
400 / 495 Arm Spacing
Dual Orientation Hoop
Our valued supplier of plastic frames with the patented extra, ALLIED INTERNATIONAL, has sent us a new frame:
A dual orientation embroidery hoop for ZSK embroidery machines with arm spacing 400mm and 495mm.
This versatile dual orientation hoop can be used both horizontally and vertically, depending on the sewing field and arm spacing of your embroidery machines!
The dual orientation feature allows you to use this extra large jacket back sized hoop with a wider range of garment sizes. This is essentially 2 hoops in 1!
The dual orientation hoop is part of the well-known Premium Allied Grid-Lock series and offers an embroidery field of 300mm x 400mm / 12" x 16 " or 400mm x 300mm /16" x 12"
Parts
PAGL Dual Orientation Hoop - Part No.: 376.010.999