Kerrie Mansone
Senior Researcher at Material ConneXion
Crafting Smart Textiles
Material ConneXion, the leading materials-driven design authority, provides perspective on embroidering electronics into the next generation of 'smart' fabrics and blurring the boundaries between technology and craft.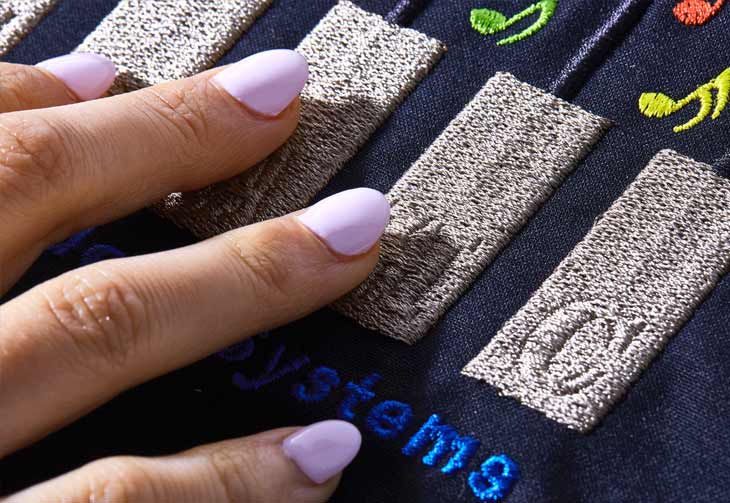 Machines are slowly weaving into every aspect of our lives, from how we communicate to how we work. Still, consumers and our clients are hungry for craft.
At Material ConneXion, we believe the current interest in craft and handmade things is a direct reaction to the digital age. The less natural and physical items in our day-to-day life, the more we crave a reversion to their tangible artisanship.
Computational technology has been integral to the information, communication and entertainment industries for decades, and, increasingly, computers operate our homes and cars. While technology touches almost every aspect of our lives, the clothes we wear stand out as one of the most promising and least explored frontiers for information technology, offering countless applications in healthcare, sports, and well-being.
With technical complexity creating visual simplicity, it is easy to find smart textiles as more familiar than foreign, and more low-tech than high-res, making them a great medium for special effects. Smart textiles, and in particular those created with technical embroidery, combine age-old processes with cutting edge advances. It is a field that creates opportunities to work across craft and computation to create textiles that look and feel like fabrics while also functioning as sensors and actuators.
Our clients are looking to solve one of the major challenges of electronic textiles going from niche to mainstream — making the technology invisible before it is useful. It must literally become part of the warp and weft of fabrics, with the circuitry for sensing and actuation indistinguishable from the yarn. To achieve this, they need to make electronics smaller, more flexible, stretchable, and washable. Finding reliable and durable ways of creating electronic textiles is one of the most immediate research goals in their field. Craft, particularly technical embroidery produced, is an important driver of this work, often providing the answer to questions, such as how to keep circuitry closed, or how to maintain aesthetics of conductive fabrics.
Besides the current appetite for the look and feel of craft, there is also a strong desire for personalization. As technology becomes more intimate both in distance to the body and in its ability to act as a conduit for informational and personal identities, materials and more specifically textiles, are increasingly called upon to "perform" via responsive interfaces. The ability of embroidery to disguise and reveal has long been part of its allure, which when combined with technology will become a key element to its future significance. Haptic qualities and personalizing technology are both functions that craft introduces to the smart material design process. While early wearable technologies aimed at finding solutions for how to "wear" computational devices on the body, current design challenges are focused on enhancing social adoption and cultural relevance based on ever-expanding consumer preferences.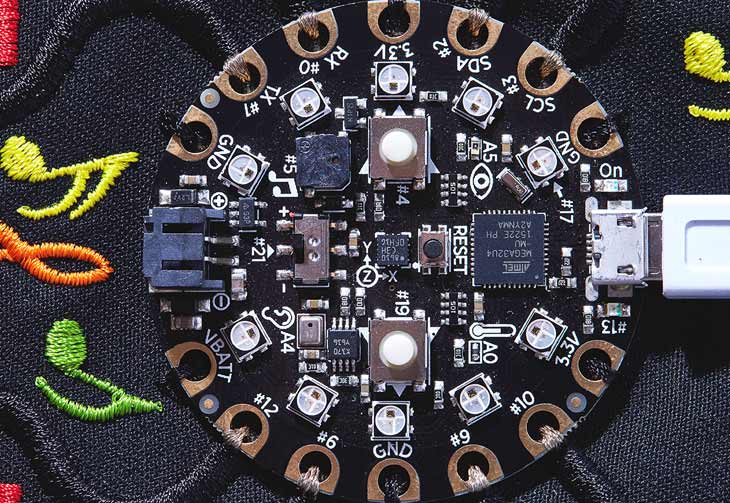 E-textiles are contemporary craft; combining novel materials, tools, and techniques with those traditionally associated with crafts. The process of creating functional, reliable and aesthetically pleasing e-textile results is heavily reliant upon the manual skill and technical expertise of the maker.
Handcraft, that knowledge of materials, is incredibly important for the future of design. As technology is further embedded into the varied materials of everyday life, we will need flag bearers who have developed tacit knowledge and relationships with those materials. At the same time, embracing change in the design of systems that produce new technologies will create more opportunities for human engagement and collaboration with fabrication machines.
Within design, the craft, and digital fabrication industries are increasingly collaborating to create innovative new methods of production. Through these collaborations, ways of using smart or electronic textiles, which can sense and react to their environments have made significant advancements — developments that have proven useful not only in the field for which they are intended but across industries. In Material ConneXion's view, the Old World technique of embroidery is key to the connected and communicative sensory fabrics of the future.
About
Material ConneXion is the world's leading design-driven material resource and trusted advisor to Fortune 500 companies. We define "what's new and what's next" in materials and incubate new ideas, so brands can make smarter design decisions. Our international network of specialists follows 75+ industry topics to provide a cross-industry perspective on materials, sustainable design, and product development.
Sources