Exclusive embroidery
Leather upholstery for demanding individualists
Rühl Leder, a long-established company based in Mülheim an der Ruhr, Germany has been one of ZSK STICKMASCHINEN's customers since mid 2018.
In the day-to-day work, Rühl Leder is using several types of ZSK embroidery machines to process different car and motorhome parts. For this purpose, each machine has been designed with the appropriate special equipment like the ZSK leather set-up.
Apart from the machines, Rühl Leder is using the BasePac Premium punch program from ZSK STICKMASCHINEN to design individual embroidery files.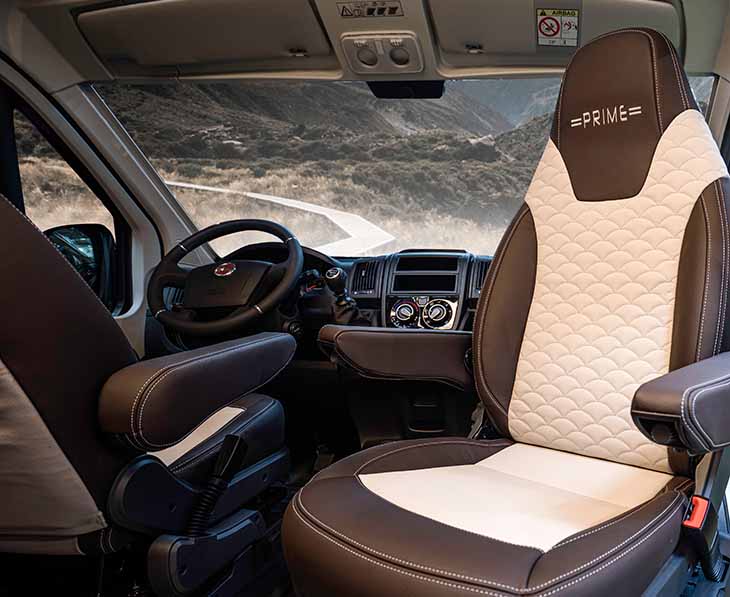 While talking to Stephan Rühl (Managing Director) we learn more about the history of the company
In 1890, Friedrich Wilhelm Rühl founded a leather tannery called FW Rühl Lederfabrik KG in Mülheim a.d. Ruhr. Nowadays, the family business is run by Stephan Rühl who offers exclusive leather interior for cars since 2000, and same for motorhomes since 2006.
In mid 2018, Rühl invested in ZSK embroidery machines so that they can now also realize individual embroidery in the vehicle interior, e.g. on seats, armrests, headrests, shifters and steering wheels.
Apart form passenger cars and motorhomes, the company also handles antique furniture, couches, armchairs and unusual items such as exclusive violin cases.
STEPHAN RÜHL - THE LEATHER EXPERT
Stephan Rühl is closely connected to the material leather due to the fact that he virtually grew up with the product. Already at the age of 6, he was often in the family-owned tannery and has helped here and there. This has given rise to his lifelong leather passion, which has accompanied him on his various career stages in Italy and the USA. Back in Germany, he turned the former parental tannery into a successful leather equipment company - with new product portfolio, high-quality materials, modern machinery outfit like ZSK embroidery machines, first-class processed products and a dedicated and talented team.
RÜHL LEDER - PRODUCT PORTFOLIO
Focus of the company's portfolio nowadays is motorhomes and automobiles, offering exclusive unique items as well as small and medium series up to 2,000 pieces p.a. The equipment of ships, hotels, restaurants and cafés represent another business area within the Rühl Leder portfolio. Rühl is working with its own special "motorhome leather" which is available in 18 colors. Apart from this, the company also offers a top exclusive leather type "water buffalo" in a variety of 5 colors. The quality of the leather as well as gentle workmanship are rated very high at Rühl Leder. Through elaborate special treatments, Rühl's special motorhome leather achieves its extremely high resistance to light and color fastness thus complying with the automotive DIN standard. The motorhome leather by Rühl is much softer than other types of leather and very comfortable due to its high breathability regardless of season. The advantages of the water buffalo leather are particularly pleasant surface feel as well as extremely high breathability.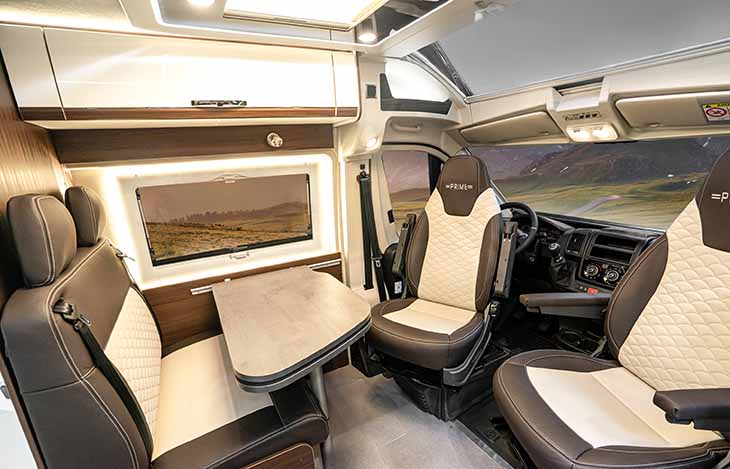 A SUCCESSFUL CONCEPT
Stephan Rühl explains what is his individual concept and why it is so successful. Obviously it is his combination of "highest quality" and "best possible customer service".
By combining "best leather + lamination + design + associated fixings" Rühl achieves highest quality. And secondly, he is putting much effort and a lot of time in personal customer consulting.
While talking to his customers, he also presents the manifold possibilities of individual embroidery on leather, in order to find the perfectly fitting individual designs together with his customers. "Even after 5 years, I want my customer to be happy with the product that I have sold him, and the product must still look new," sums up Stephan Rühl.
THE DECISION FOR ZSK EMBROIDERY MACHINES
Previously, jobs like punching and embroidery were outsourced by Rühl, which in the long run turned out to be difficult and time-consuming. Thus in 2018, the decision was made to purchase punch software and embroidery machines for these jobs. Upfront, Rühl's employees did some research to find suitable embroidery machines and equipment, and finally suggested the ZSK machines and software to Stephan Rühl.
After discussions in Krefeld during which Stephan Rühl and his partner Burhan Karpuz were able to clarify the points that mattered to them, they too were convinced and the machines could be configured with the appropriate special features.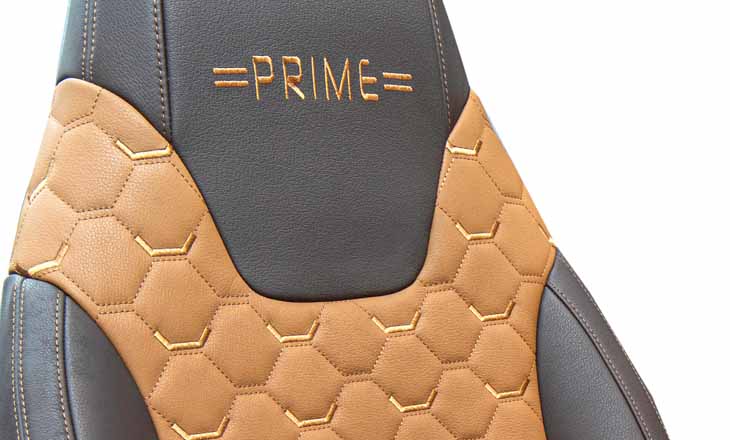 First of all, he was looking for a machine suitable to embroider logos on small parts such as headrests.
For this purpose, a SPRINT 6 from the proven SPRINT series was selected and equipped with the ZSK leather set-up which allows to combine thin and thick yarns on one machine, and to process both in one pattern.
This type of machine takes up little space, is robust and very user-friendly, making it particularly suitable for beginners.
With the ZSK SPRINT embroidery machine, the first samples were embroidered, and sample parts made for the Caravan Salon 2019 in Düsseldorf.
At the fair, the patterns with the individual embroidery were so well received by the audience that Rühl booked orders for more than 150 cars there.
Next he wanted to extend his work on backseats and headliners, which required a machine with a particularly large embroidery field. Motorhomes require an embroidery field of at least 80 to 100 cm or even up to 130 cm. Due to its extra wide embroidery field, a CHALLENGER machine was chosen for this purpose.
The decision for the CHALLENGER fell quickly. "The overall width is the most important and critical factor, and that's exclusively available from ZSK STICKMASCHINEN," Rühl explains his decision. In addition, the machine is equipped with an automatic selective bobbin changer, which first of all allows to work with sewing and embroidery threads on one single machine. Second, with ZSK's selective bobbin changer, the different bobbin threads are automatically assigned correctly.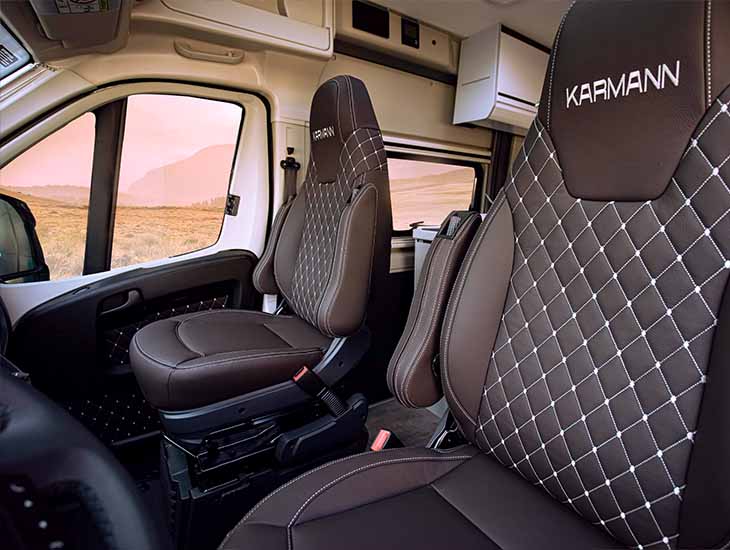 Finally, another topic was the embroidery of the car side parts. Together with ZSK STICKMASCHINEN, a machine was configured precisely for this purpose: a RACER 2XL equipped with the ZSK leather set-up, 2 heads and 24 needles for a large variety of colors.
According to Stephan Rühl, the customization with embroidery represents an extra value for the creation of unique pieces (cars, vintage cars, motorhomes ...).
With the new ZSK machines, Rühl is able to individually embroider leather parts of all shapes and sizes in automotive and motorhome interiors.
And finally with the ZSK BasePac punch software, Rühl is able to create customized embroidery designs in-house, and to quickly change design files if needed.
"Our employees were trained intensively on site by ZSK. The delivery and installation of the machines were timely and without any problems. The ZSK Service assisted us a lot especially during the start-up phase to quickly become familiar with our new segment embroidery."says Stephan Rühl.
The solid workmanship and the robustness of the ZSK machines convinced the entrepreneur Rühl as much as by the expertise of the ZSK employees. Last but not least, this new additional competence in-house helps him to set up new business segments and to also address other customer groups, which should ultimately increase the business volume.
"Individualism is branded with me, and my goal is to design my products individually. Meanwhile, I became a real fan of the ZSK embroidery machines and the combination of sewing and embroidery. We could not offer this combination and this degree of individualization without the embroidery machines from ZSK STICKMASCHINEN."