ZSK reveals dedicated molding solutions for the production of TFP Thermoplastic Composite products.
By Matteo Moretti, ZSK TECHNICAL EMBROIDERY SYSTEMS, in collaboration with COREBON AB (www.corebon.com)

Tailored Fibre Placement, or commonly called TFP, is undoubtedly fast becoming a well-known Additive Manufacturing technology for the production of composite parts. Furthermore, as a consequence of the Covid19 pandemic of the past two years, TFP is experiencing exponential growth due to the huge and incessant demand towards more sustainable supply and manufacturing chains, from the automotive to the sport and leisure industries.
TFP AWARENESS
The reason behind this demand is simple; TFP allows to drastically reduce material waste while automating the preforming process and manufacturing highly structured optimised composite products.
More so, it allows the use of dry and eco-friendly commingled fibre which consists in an even distribution mixture of a thermoplastic fibre (such as PA6, PA11, PA12, PP, PC, PEEK etc) with a reinforcement fibre. The latter could be, not only Carbon (CF) and/or Glass fibre (GF) but also Natural Fibre, such as Hemp and Linen.
When using commingled fibre in combination with thermoplastic stitching thread and thermoplastic support material, TFP Thermoplastic Preforms are created.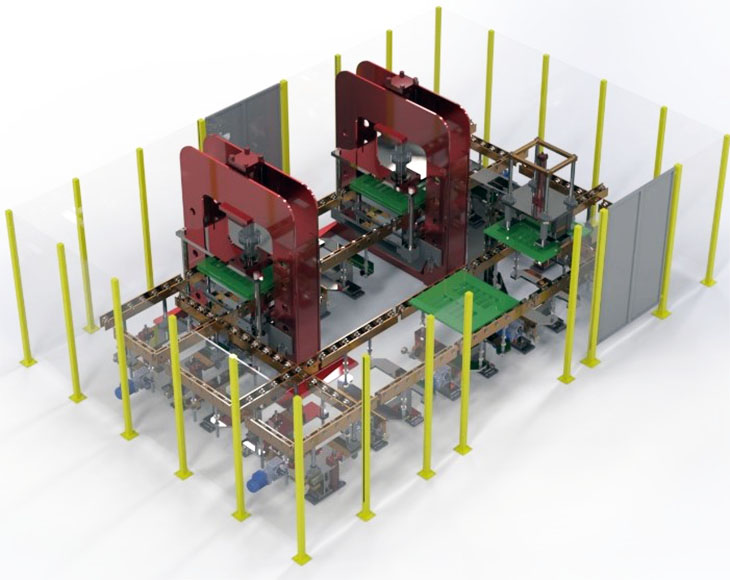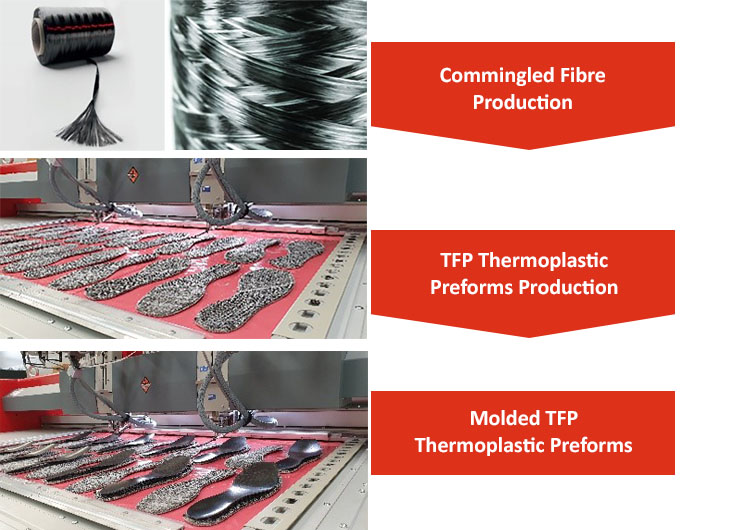 Yet for many people, due to the novelty of TFP technology, it becomes difficult to define the right design for manufacturing (DFM) of Carbon Fibre Reinforced Plastic(CFRP) parts; particularly so, when considering Thermoplastic matrix based products (CFRTP) the common and recurrent question is how to mold rapidly and efficiently TFP Thermoplastic Preforms.
Complementary, for many European companies directly or closely related to the composite industry, it is becoming extremely vital to move back the production from Asian countries, due to the fragility of global production processes in CFRP products, starting from the purchasing of raw materials.
THE PROJECT AND SPIDUI TECHNOLOGY
For the above reasons ZSK has decided to invest remarkable effort and resources into a two years development project, aiming to give birth to a Spin-off able to provide the most technical, cost and energy efficient molding solutions for low to high-volume production of CFRTP products which benefit for the TFP technology.
The project started in Italy in January 2021, where ZSK has equipped a dedicated area and established a strategic networking of partners to best optimize the supply chain since the early stages.
Thanks to a dedicated tooling design and via rotating multiple multi-cavities thin steel close molds, from heating induction stations to conduction cooling stations, ZSK believes in the utilization of a functional and automated production line, when millions of TFP parts are annually required. SPIDUI technology, concept represented in Fig. 1, is in fact specifically thought for high volume production of small to mid sized CFRTP parts, mainly for the sport industry.
As part of the SPIDUI technology evaluation, ZSK has run several tests creating an extensive number of samples so to understand, tune and optimize preforming and molding parameters for a large combination of TFP Thermoplastic Preforms. A thousand of samples using commingled CF/PA6 fibre were then turned into 'Sample Boxes', appositely made to allow people to physically see, touch and feel the potential in the re-thinking of sustainable CFRTP via using ZSK's TFP technology.
The box comes with a simple and illustrative explanation flyer and includes a footplate mid-sole TFP preform and the correspective molded and trimmed preform.
ZSK - COREBON AB
Currently ZSK is running a variety of product development projects for customers of the sport industry; constantly facing but punctually overcoming new challenges.
The strength and the uniqueness of the service itself lies into two major things:

The extensive know-how that ZSK and its partners have in developing (from material selection to design optimisation) and molding thermoplastic TFP preforms.
The technical collaboration that ZSK has established with Corebon AB at the end of 2021.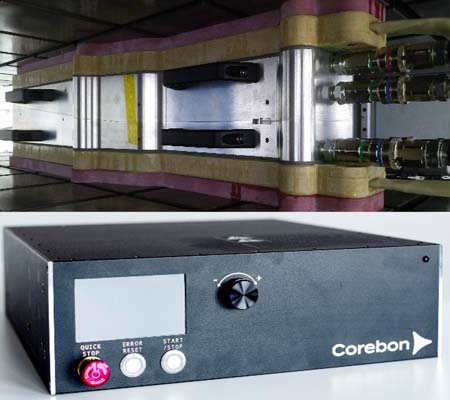 Corebon AB, one of Sweden's fastest-growing companies, based in Mälmo, has developed a unique induction heating technology and molding solutions which enable to drastically reduce energy consumption and cycle time to a minimum when molding CFRP parts.
Either by direct volumetric heating of the CFRP, or via indirect heating of thin metal molds (or composite molds), as used in the SPIDUI process.
Corebon's specialists and FEA engineers are working closely with ZSK's team to utilize, adapt and maximise their unique technology features to mold effectively TFP Thermoplastic Preforms; the rare capacity of achieving a precise and uniform heating (and cooling) distribution will be ground breaking for high volume production of CFRTP products via ZSK's TFP Technology.
ZSK and Corebon are currently building a Demonstrator Line, which will be presented and showcased to the public by end of this year.
Together with the optimisation of the SPIDUI technology, these are expected to be the first of many TFP molding solutions that these two companies will soon bring into the revolutionary TFP composite market.