Case Study - Elemental Motor Company and SHAPE Group
Case Study – Elemental Motor Company and Shape Group
New carbon composite technique provides robust structural lightweighting solution for Elemental RP1 sports car
Elemental Motor Company was founded in 2012 with the aim to develop the Rp1 sportscar and bring it into production. The company is part of Elemental Group Ltd, and its manufacturing facility is based in Hambledon in rural Hampshire, UK.
With core specialisms in high performance automotive and racecar engineering, vehicle dynamics and systems, advanced composites technology, advanced manufacturing, vehicle design and styling, the team at Elemental Group has over 120 man-years of experience at the cutting edge of British Automotive Design.
Limitations of traditional composites are overcome by Tailored Fibre Placement technique
The designers at Elemental Motor Company have chosen a carbon composite made using Tailored Fibre Placement (TFP) for the inner rear wheelarch component on their RP1 track-focussed road car. The composite technique, incorporating innovations by ZSK, Germany, manufactures a cost-effective material that provides a light, strong and tough solution where carbon fibre had previously been ruled out on a cost and fragility basis.
TFP allows Elemental to design a complex 3D shape with compound curves
"TFP completely changed our view of how carbon composites could help to achieve weight and cost targets," says Elemental's composites manager, Peter Kent. "The resulting rear wheelarches on the Elemental RP1 are manufactured in carbon fibre using TFP, are tough enough to withstand all that the wheels can throw at them and have a complex 3D shape with compound curves. This at odds with the traditional qualities of carbon fibre components."
ZSK has developed TFP using techniques proven in the embroidery industry. It involves the laying down of carbon fibre threads or rovings onto a substrate to make a 2 dimensional preform that is "net shape". Wastage, handling, and complexity are all reduced over traditional methods, which gradually build up layers of carbon fibre mat by hand as part of a labour-intensive process. TFP has the added advantage of allowing complex 3D shapes to emerge in the mould through clever fibre laying and stitching whilst making the preform.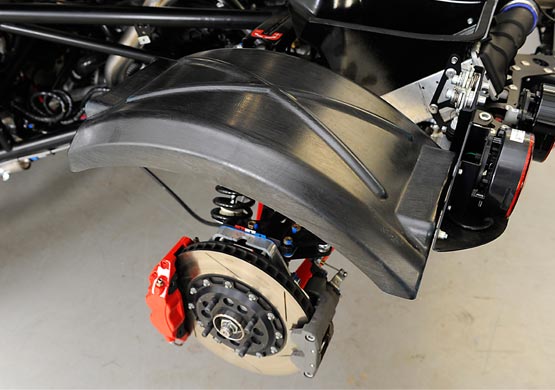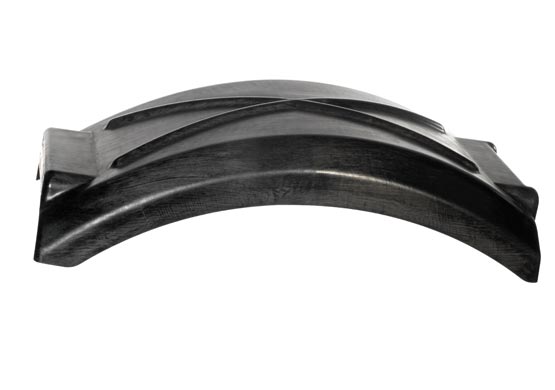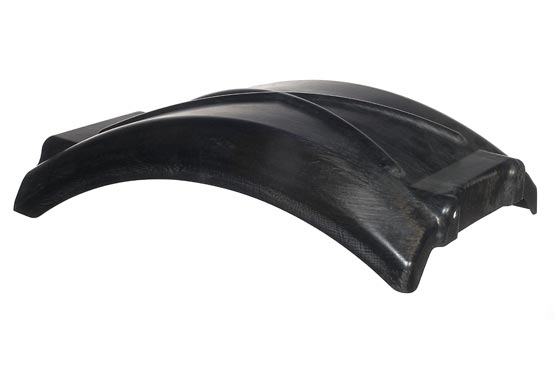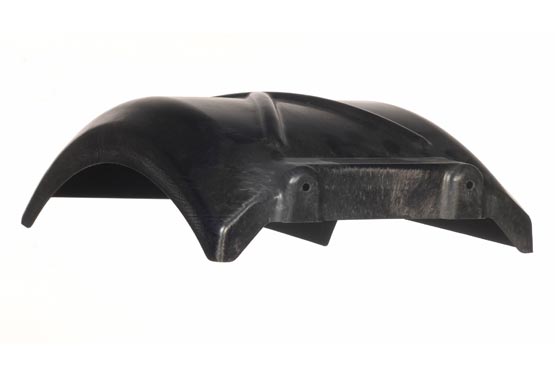 Inner wheelarch withstands stone and gravel impact and forms part of the rear structure of the car
The wheelarch is manufactured by SHAPE Group, which specialises in carbon composite tooling, and has a division dedicated to design and manufacture of TFP components. The motivation to consider TFP came from Shape's experience in Formula One. Traditional methods can be very limiting, not just in terms of design and cost, but also the properties of the material, which is brittle and not able to withstand knocks or abrasion.
After a rigorous analysis of the market and search for suitable expertise, SHAPE Group identified ZSK as its first-choice partner. ZSK's TFP solution was a perfect fit – a scaleable, flexible and cost-effective technique which opens up many new opportunities for carbon composites. ZSK has worked hard to make the process efficient and effective with high reproducibility and built-in quality control.
Driving efficiency over tradition
The traditional method of carbon composite manufacture involves a complex cutting and hand-laying process which can see a third of the material wasted before it is even used. Since carbon is at its strongest in the direction of the fibres, accurate orientation is critical to providing a strong component.
Hand laying is labour and energy intensive and open to error, and the result is often sub-optimal when considering the components' strength. This leads to over-engineered designs with extra layers. However, TFP allows us to align the fibres precisely to optimise strength, to bear the loads present on the component and accelerate development and manufacturing times.
Elemental's composites manager, Peter Kent, agrees. "It's early days, but we have been able to design an inner rear wheelarch with SHAPE in carbon composite using TFP which can act as a structural component, carrying bodywork and the rear luggage bins, and considerable aerodynamic forces."
TFP comprises a thermoplastic resin, which helps overcome the brittle nature traditionally associated with carbon fibre. It also offers considerable benefits when it comes to end of life recycling, as the carbon can be melted out of the heated component at about 300oC and recovered, rather than going to land fill. As Kent demonstrates, the technique is able to create a much tougher material than thermoset alternatives: "We took a wheelarch off a development car for examination, and there wasn't a mark on it," he concludes. "At Elemental we've been very impressed - there are so many parts that could be made in carbon fibre using TFP. It really is very exciting."
Erfahren Sie mehr über die Verwendung von Carbonfaser