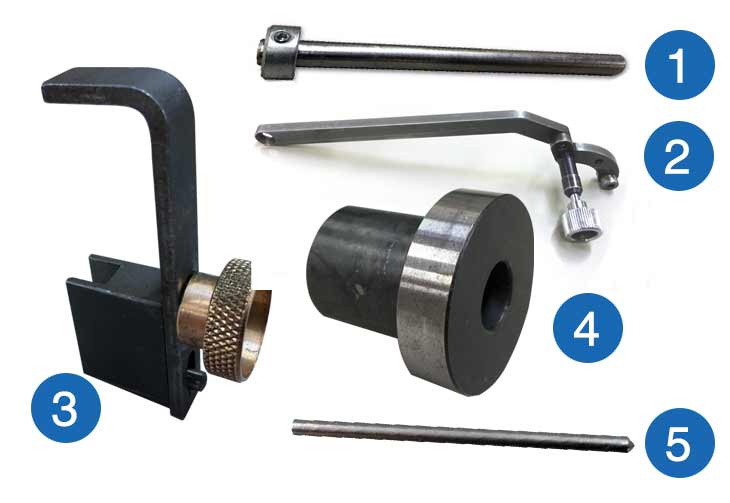 Service Tool I
Maintenance Tool
Like any other machine, ZSK embroidery machines require regular maintenance. This enables excellent embroidery results on a regular basis and, in many cases, could have prevented a machine failure.
In addition to the simple routine work such as cleaning and oiling, which every machine operator has to master, there are more specialized setting and maintenance work. These should only be carried out by trained technicians and experts. Failure to do so can seriously damage your machines.
We recommend the following tools for technicians and experts for the most common special adjustment and maintenance work on ZSK embroidery machines.
Parts
( 1 ) Rig Pin 136° (128°) - Part No.: 601.005.914
( 2 ) Locking Device 70° - Part No.: 601.005.952
( 3 ) Needle Height Taker - Part No.: 601.001.844
( 4 ) Adjusting Device Needle Height - Part No.: 601.003.206
( 5 ) Adjusting Pin Needle Height - Part No.: 601.001.614
Service Tool II
T8 Remote Control
The maintenance of ZSK embroidery machines and devices such as beads or sequins requires that the embroidery machine is repeatedly started and stopped for testing. This is usually done via the T8 control unit and the sub-controls that are regularly present between the embroidery heads. These control units are easy to use and meet most requirements.
A Technician who have to service many machine heads with many devices will appreciate to have the new ZSK start/stop remote control at his fingertips. The T8 remote control saves time and enables the focused work.
The start-stop remote control of the T8 is wired and connected to the rear of the T8 via a D-Sub connector. The T8 and all other panels on the machine can also be used in parallel as usual.
Parts
T8 Remote Control - Part No.: 396.221.005