JGVA 0109 - Triple Embroidery Head System for Technical Applications
The embroidery technologies developed by ZSK TECHNICAL EMBROIDERY SYSTEMS, a division of ZSK STICKMASCHINEN enable a wide scope of products, applications, and methodical procedures to be implemented for specific design goals and constraints.
Jump to:
Introduction | Offer JGVA 0109 | ZSK Embroidery Technology | Downloads
Introduction JGVA 0109
The JGVA is designed as a highly capable and integrated Smart Textiles and Composites development center.
This advanced model can create anything any ZSK embroidery machine can do. It was designed with robustness in mind to help makers and creators flush out their design, as well as do small batch manufacturing for timing studies.
This machine is a powerful platform to stitch circuit boards, embroider wires, place sequins, create soft bioelectric sensors, and create composite parts.
The JGVA 0109 -500 (700)
Move the cursor to the yellow points for info.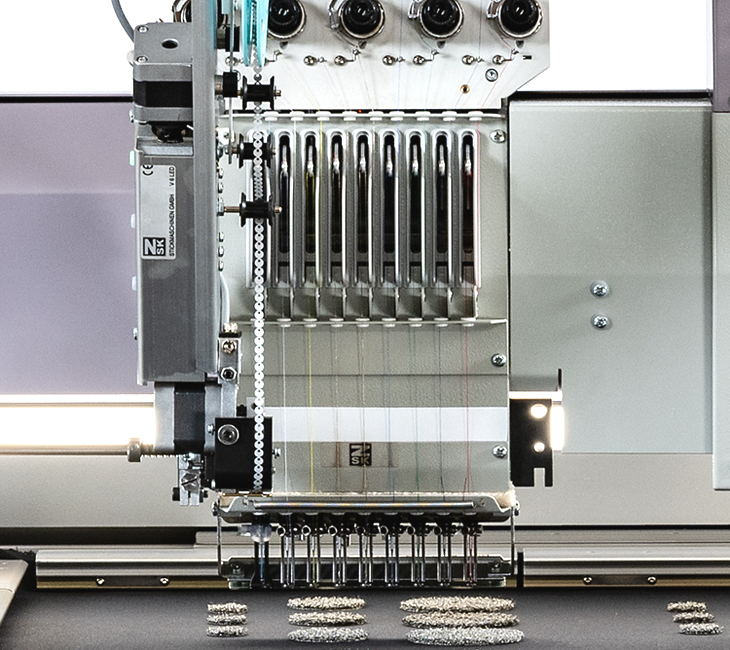 The F-Head
The F-head is the most commonly used embroidery technology, often referred to as standard embroidery.
By using this standard technology with a satin- or running stitch with conductive threads, many applications for wearables, e-textiles and smart textiles are possible.
The F-head of the JGVA offers 9 needles or space for 9 different yarns.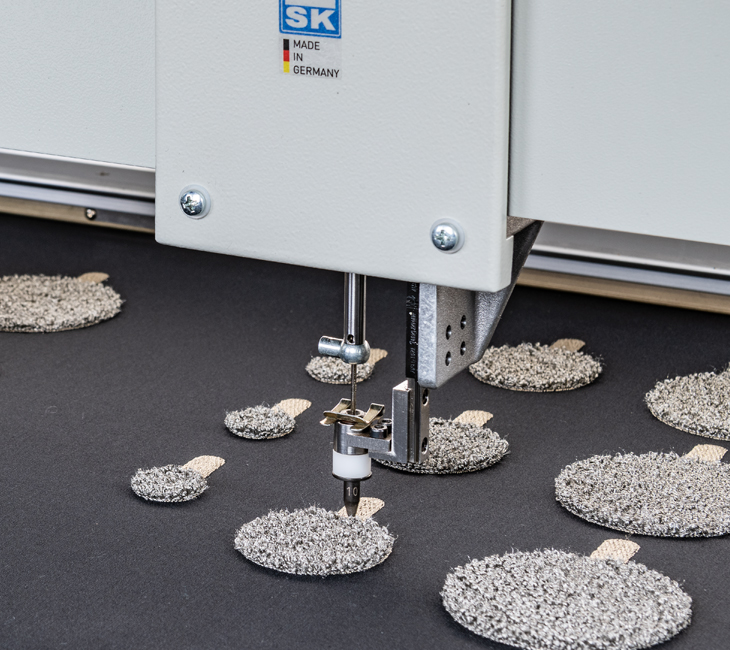 The K-Head
The K-head creates moss embroidery. This single thread system creates loops at the surface of the carrier material. Voluminous surfaces will be generated by the compact placement of the stitches.
An actuator system with four separate single motor units supports the customization of parameters like the height of the loops, the presser foot or the inclined position to satisfy required needs.
Moss embroidery associated with electro conductive yarn is the ideal combination for products from the fields of smart textiles, wearables and medical textiles.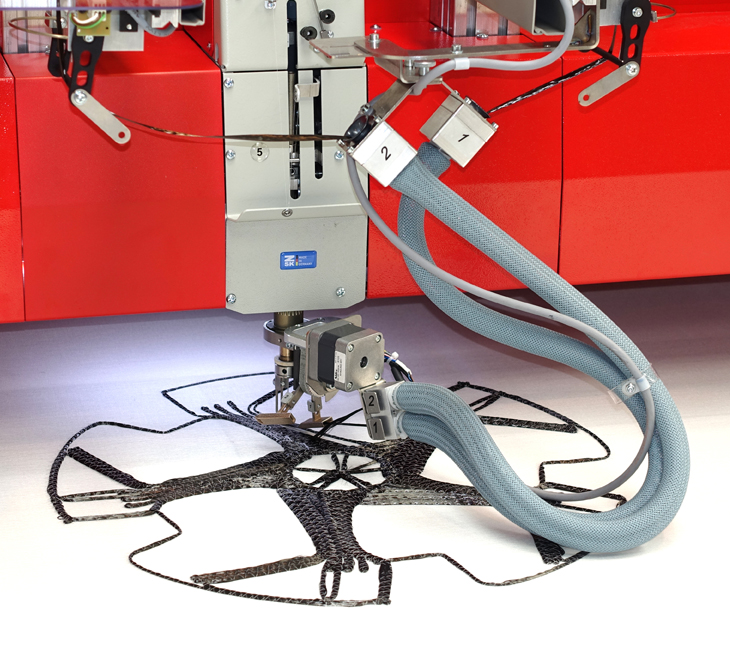 The W-Head
The W-head allows the laying of fibers, wires, and tubes onto a textile or a flexible carrier material. It is the most versatile embroidery technique allowing for strange (like biomaterials), thick (like ethernet cords), or stiff materials to run that are too large or too delicate to run as threads.
Embroidery technologies like the tailored wire placement, tailored fiber placement (TFP), and tailored tube placement can be realized with this technical head. This head is extremely popular with composites customers looking at creating carbon or glass fiber preforms and inserting electronics and wires into them, as well as Smart Textiles customers who want to have the maximum material exploration possibilities with technical embroidery.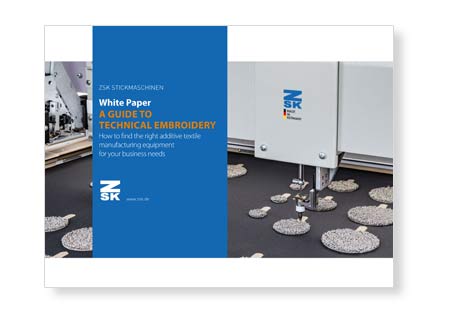 Whitepaper
A Guide to Technical Embroidery
A paper written by Dr. Topher Anderson to support finding the right additive textile manufacturing equipment for your business needs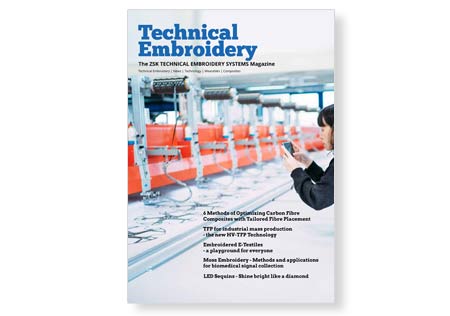 TECHNICAL EMBROIDERY
The ZSK TECHNICAL EMBROIDERY SYSTEMS Magazine
The magazine is a collection of articles on the subject of technical embroidery that have previously appeared in the ZSK customer magazine "CARL".