ZSK Academy Offering - The Learning Portal
by www.ZSKAcademy.com
ZSK Academy learning portal was developed to teach everything in the first week of beginners training as well as advanced topic-specific lessons. Lessons include video tutorials, required files for the machine, recommended materials, and everything you need to get started mastering technical embroidery on ZSK's equipment. This allows the students to absorb the information as they wish, rewind and replay lectures, and grow to master technical embroidery.
The interface is designed for students to download files, and upload pictures of their accomplishments for grading and feedback. Quizzes are made to ensure that students are watching each video. Assignments are made so that students can test what they've learned in a real-world project.
ALL of the lessons, files, and topics covered in the first week of training are video documented with daily lessons, quizzes, and optional assignments. This is the full first week of training on the machine as well as materials recommendations, machine setup information, and safety training. In the past, I've had feedback that the in person trainings go to fast with too much content. Now, you can go at your own speed to add that knowledge to your team's capability.
Additionally, for intermediate and advanced users, there is the EPCWin Video Manual that has detailed descriptions of every setting and topic in EPCWin. This video manual is designed to augment a team's working knowledge of EPCWin to add additional in-depth topics. The original Word document is a few hundred pages long just of information, and now there are videos detailing it too!
New topics are included in the subscription will be added to the course throughout the year so that you can keep fresh on the newest techniques ZSK has to offer! Keep up with regular trainings to keep your team on the pinnacle of technical embroidery possibility.
ZSK ACADEMY - The Online Learning Portal
Beginner's training week courses:
Day 0


(1 hour of basic background and supplies to order)
Recommended materials, threads, backing,needles
Recommended machine setup
Installing EPCWin software and getting a liscense
Recommended Power Converter
Recommended Air Compressor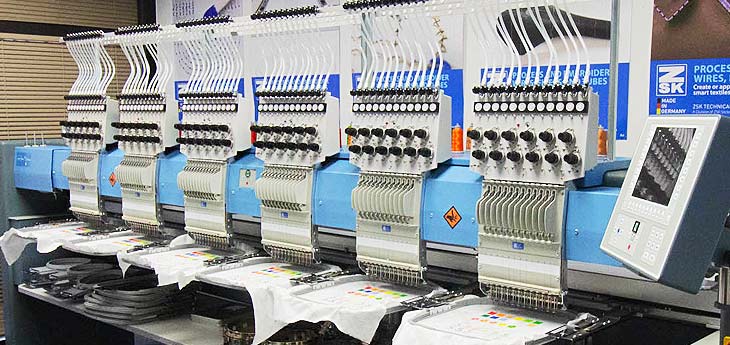 ---
Day 1: Drafting for Embroidery


(8 hours of digitizing tutorials, exercises, and assignments)
EPCWin Shortcuts
Menus and Drawing
Drawing lines and shapes
Drawing work flow
Drawing geometries
Editing drawings: Single selection
Editing drawings: Block selection
Editing other settings
Slicing drawings and connecting points
Saving designs
Copy and paste techniques
Introduction to drawing programs
Help tools and grids
System settings
Quiz:
Drawing and drafting in EPCWin for Embroidery
Assignment:
Drawing a logo for digitizing exercise
---
Day 2: Stitching comfort lines and transmission cables with conductive thread


(8 hours of digitizing tutorials, exercises, and assignments)
Drawing for comfort lines
Manual punches
Manual punches limited stitch length
Lock stitches technique
Comfort line on the fly
Comfort line selected
Comfort line changes
Comfort line running line
Comfort line advanced settings•Comfort line RFID coil exercise
Loading a vector file from Adobe Illustrator orSolidworks
Save menu advanced settings for stitching
Design management
Design directories
Quiz:
Comfort lines in EPCWin for Embroidery
Assignment:
Comfort line logo
---
Day 3: Comfort fills for logos, areas, and touch buttons


(9 hours of digitizing, tutorials, exercise, and assignments)
Drawing for comfort fills
Introduction to comfort fills
Comfort fill stitch settings
Special functions
Alignment
Insert specials in comfort fill like holes,dividing lines, and rhythms
Comfort fill advanced settings
Satin stitch boarders for clean logos
Quiz:
Comfort fill in EPCWin for Embroidery
Assignment:
Comfort fill patch with logo and color changes
---
Editing menus
Editing drawings
Editing Manual Punches
Differences between manual punches and automatic stitches
Editing special functions
Editing Logo
Editing Patches
Block editing technique
Editing insertions of blocks
Breaking and fixing a design
Quiz:
Editing a file with the various editors in EPCWin for embroidery
Assignment:
Download and fix a logo design that has been made for you, upload the corrected logo
---
Day 5: Running designs on the machine
Setting up the frame for embroidery
Selecting the correct starting head (multihead machines only)
Loading a design on the T8 controller
Advanced T8 control course
Bobbins, casings, thread, and how to tension a machine properly
Oiling the embroidery machine and daily maintenance
Safety training
Running a design on the machine
Evaluating quality of embroidered design
Quiz:
Machine safety and operation quiz
Assignment:
Create 5 patches based on the lessons learned earlier in the course. Upload pictures of your best 5 patches for grading and evaluation. Upload the ZDF file as well for checking.
Call +1 (717) 706-7702 (US) for more info
Lesson: Introduction to Composites
Lesson: Introduction to Smart Textiles
Lesson: Introduction to Wire Placement
Lesson: Embroidery to make fancy carbon fiber composites
Lesson: How to stitch a circuit board
Lesson: How to create touch buttons with embroidery
Advanced EPCWin video manual
(400+ Word document pages with pictures and videos)
New courses and lessons are they are developed!
Offering
This offering is for a yearlong companywide license – train as much as you want, when you want, as many students as you want using the equipment in your company. Reduce the impact of turnover or students moving on by allowing new hires to train during their orientation!
ZSK Academy
ZSK Research and Training Center,
990 Industry Drive, Tukwila,
WA 98188 USA
Phone: +1 (717) 706-7702
E-Mail: topher@zsk.de
Online:www.ZSKAcademy.com
Download
Download the ZSK Academy flyer with an offer of ZSK Academy by Dr. Topher Anderson.