Coloreel - one thread, all colors!
Coloreel always offers the right thread color exactly when you need it!
The Coloreel system enables all colors that are required for the embroidery design with just one thread and one needle!
A white embroidery thread is colored during embroidery and according to the specifications of your design using a high-quality printing process in the Coloreel Unit and then fed to the embroidery machine.
With Coloreel, every specific color and every color gradient can be created precisely and efficiently according to customer requirements.
ZSK STICKMASCHINEN is now a sales partner of Coloreel - the revolutionary technology for the right embroidery thread color on demand!
ZSK STICKMASCHINEN is pleased to be able to offer Coloreel for ZSK embroidery machines and machines from other suppliers.
We think that the Coloreel of machine embroidery opens up new avenues in creative design and will sustainably expand the technical possibilities of embroidery.
See an article by ZSK embroidery designer and software trainer Britta Sanders in the video
The advantages of Coloreel
Maximum Creativity
There are unlimited colors available for design to use on any material. Create unique designs with gradients, texturing or stripe patterns on the embroidery machine.
Efficient Workflow
With Coloreel many designs can be embroidered faster, better and cheaper.
With Coloreel you can save time and thread. Changing the color and cutting the thread is often unnecessary.
Excellent Quality
Embroidery with Coloreel creates a unique look and feel. The embroidery is more even and the surface is smoother without unnecessary lockstitches. The yarn is durable and colorfast up to 95 degrees. Your customers will be able to enjoy brilliant colors even after countless washes.
Minimal use of Resources
Due to the stitch-precise coloring of the recycling thread, only the thread color that is actually needed is produced. The Coloreel dyeing process ensures that the necessary chemicals are used to a minimum.
New creative design options with Coloreel
Add shading, gradients, and textures to your new and existing embroidery designs using Coloreel's unique technique.
Coloreel makes every color of the embroidery thread possible thanks to the CMYK process, which is otherwise only used in printing. Coloreel achieves a maximum dyeing speed of 200mm embroidery thread per second!
The system actively supports you in color selection and provides color libraries for administration.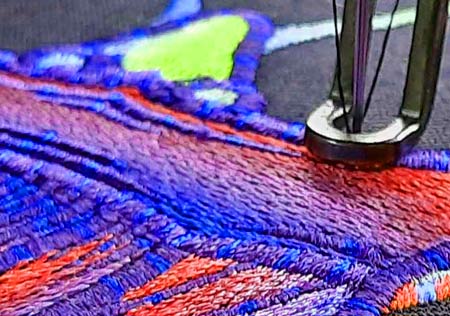 Gradients
Embroider any color gradients with Coloreel on ZSK embroidery machines.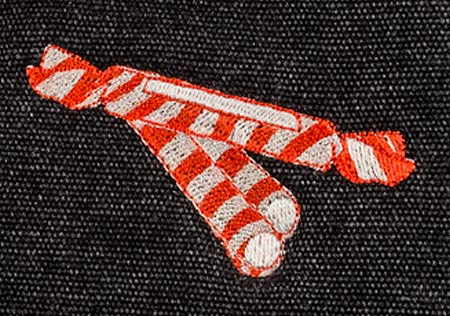 Stripes
Embroider stripes with Coloreel on ZSK embroidery machines - without changing the thread and cutting.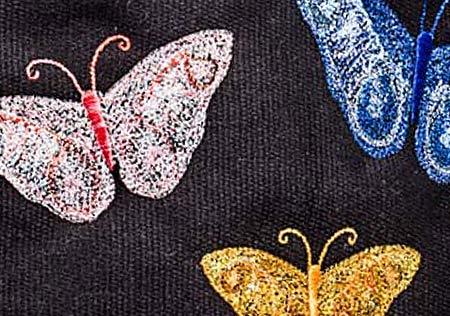 Texturing surfaces
Embroider textures on surfaces with Coloreel on ZSK embroidery machines.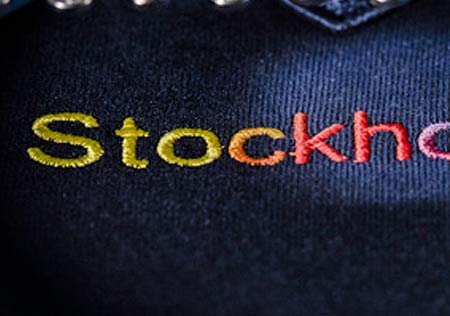 Combine techniques
Embroider combinations of colors, gradients and textures with Coloreel on ZSK embroidery machines.
The components of Coloreel
The Coloreel system can be combined with any modern single- and multi-head embroidery machine from ZSK STICKMASCHINEN and machines from other manufacturers.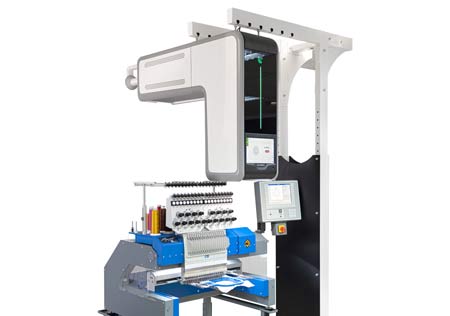 The Coloreel ITCU
The heart of the Coloreel system is the Instant Thread Coloring Unit (ITCU), with which the embroidery thread is colored as required.
The ITCU can be combined with any modern ZSK single or multi-head embroidery machine.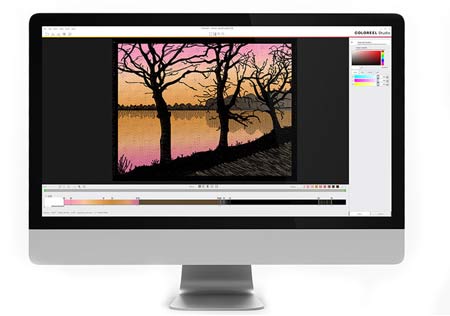 Coloreel Studio
Coloreel Studio is Coloreel's free software that allows you to set or creatively change the colors of an embroidery design.
For this purpose, embroidery designs are simply imported into Coloreel Studio as DST files and color and structure can be assigned to an embroidery.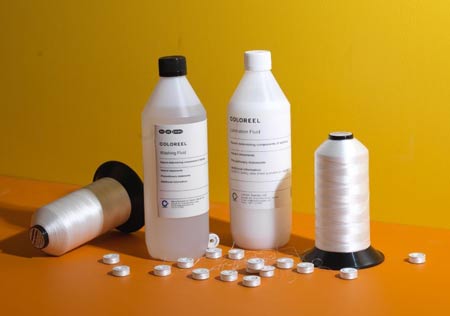 Service & Consumables
A wide range of consumables such as recycled yarn and printing inks are available for the operation and maintenance of Coloreel.
A global service network enables on-site help at any time or - for urgently needed support with maintenance work or other questions, via remote access.
The Coloreel dyeing process

Coloreel and
ZSK STICKMASCHINEN
- Learn more!
Coloreel is an ideal addition to your ZSK embroidery machine.
With Coloreel you expand the creative possibilities of your company and always provide the right thread color on your embroidery machine.
We would be happy to call you to talk to you about Coloreel in your company.
Would you like to know more?
We'll call you!
Choose Language
Afrikaans
Albanian
Armenian
Bosnian
Bulgarian
Chinese (Traditional)
Chinese (Simplified)
Croatian
Czech
Danish
Dutch
Estonian
Filipino
Finnish
French
Georgian
Greek
Hindi
Hungarian
Indonesian
Icelandic
Italian
Japanese
Korean
Latvian
Lithuanian
Malay
Maltese
Macedonian
Norwegian
Polish
Portuguese
Romanian
Russian
Swedish
Serbian
Slovak
Slovenian
Spanish
Tamil
Thai
Turkish
Ukrainian
Vietnamese