RACER | Multi-Head Embroidery Machines
Welcome to the Future of Embroidery
With the embroidery machines of the new series RACER, we set again the world standard for tubular embroidery machines. Developed and manufactured in Germany, this machine concept guarantees the shortest return of investment thanks to the highest embroidery speed. The multi-head embroidery machines pursuade with their extreme precision, flexible operating modes and proven long life time.
All Operating Modes Ready for Use
No matter whether you need tubular or cap operation, flat- or border frame embroidery, all operating modes are available. The conversion between the different applications is quick and easy.
We set New Standards
The series is equipped with the thinnest tubular of the embroidery industry. It enables jobs that could not previously be processed, e.g. shirt pockets or shoes. The machines embroider without "picker" on the front. Your advantage: textiles can no longer get caught in the hook and thus remain undamaged. Rely on quality production with the smallest clearances on the free arm.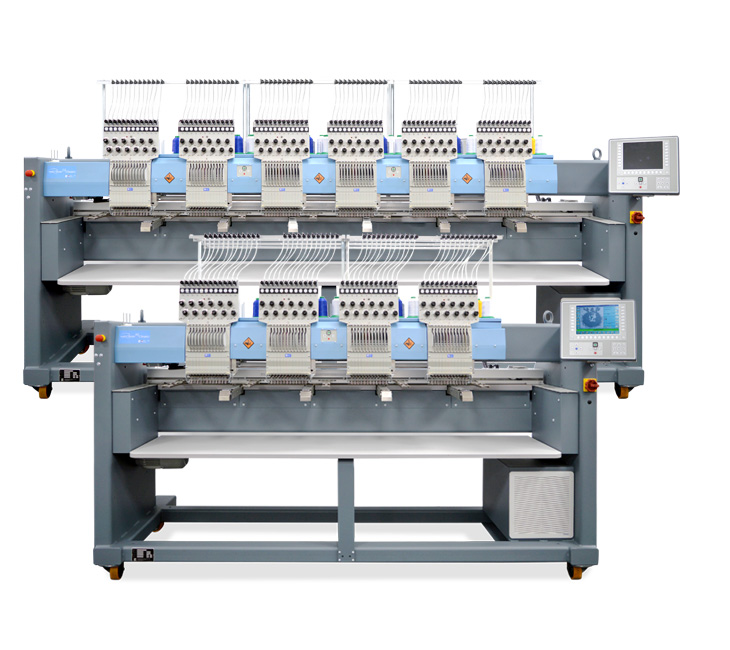 RACER CLASSIC
The RACER Classic offers embroidery machines with 4 and 6 embroidery heads. Each embroidery head has 12 needles.
The RACER CLASSIC is only available in combination with 400mm head distance and 500mm embroidery field depth.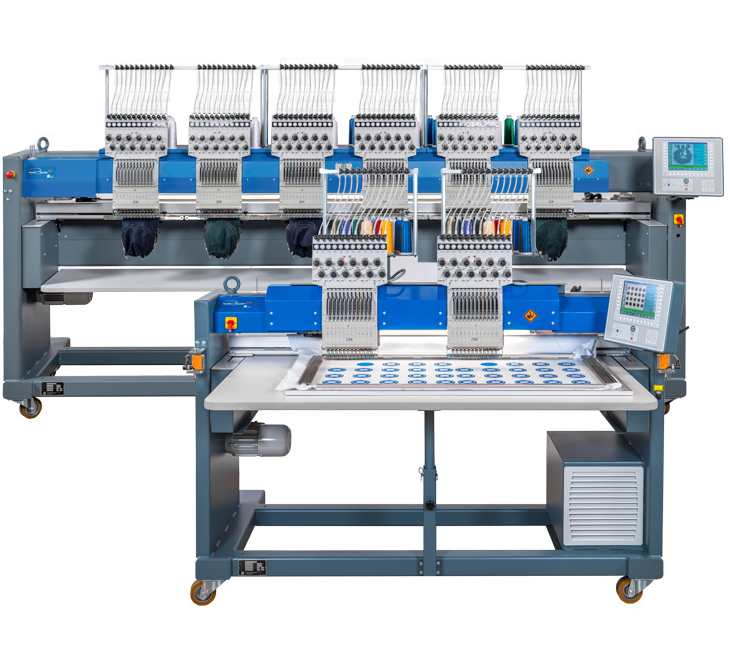 RACER
RACER offers embroidery machines with 1, 2, 4, 6, 8 and - new in 04/2021 - 12 embroidery heads. Each embroidery head has 12 needles.
Model combinations with 400mm (15,7") or 495mm (19,5") head spacing and 500mm (19,7") or 700mm (27,5") embroidery field depth are possible.
The models RACER 8 and RACER 12 are only available with 400mm (15,7") head spacing and 500mm (19,7") embroidery field depth.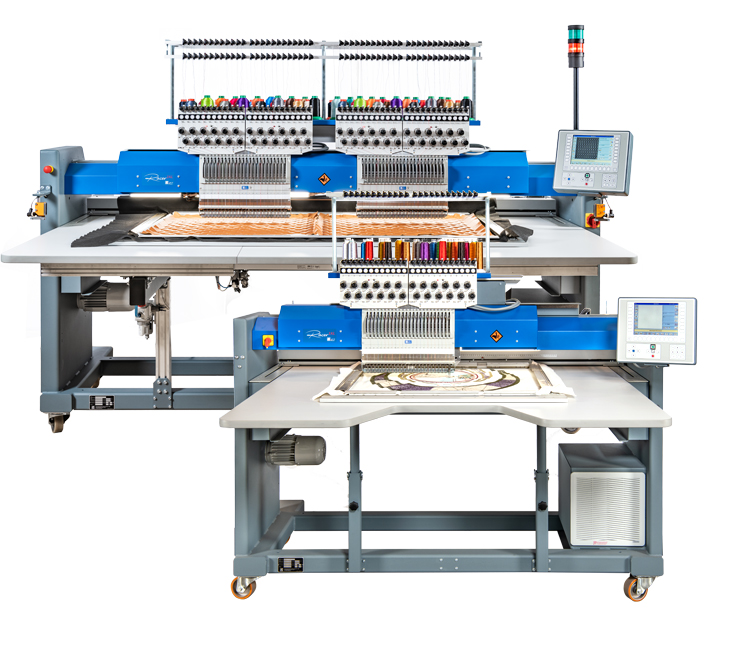 RACER XL
RACER 1XL and RACER 2XL are the two embroidery machine models available.
The typical feature of the RACER XL is the extra-large embroidery field of 700mm x 700mm (27,5" x 27,5") for each embroidery head. So, the RACER 2XL has a maximum total embroidery field of 1.400mm x 700mm (55,1" x 27,5") in the border frame.
The large number of needles is also extra. The RACER XL offers 24 needles for applications with many colors or different yarns.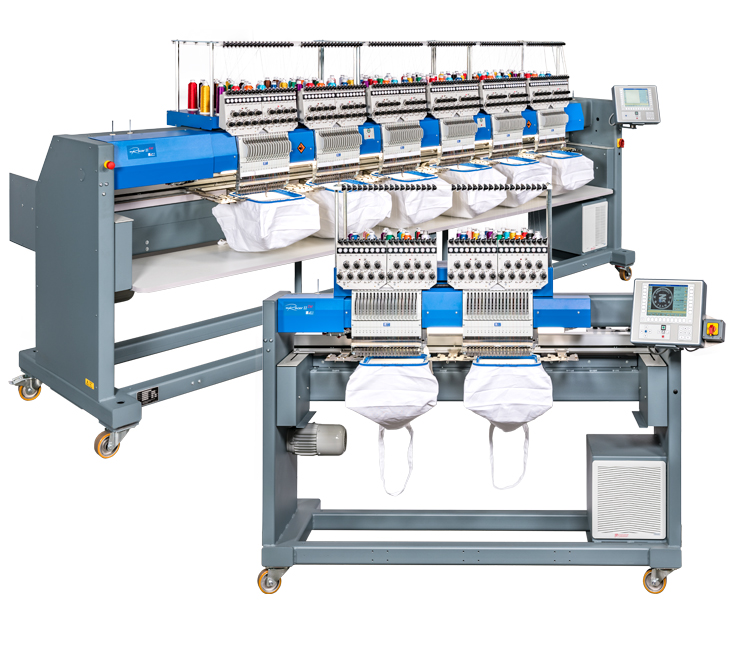 RACER II
The RACER II models are equipped with 18 needles per head and the wide head spacing of 495mm (19,5").
Other features - especially increasing the embroidery speed - are the fast ZSK color change and the fast catcher.
The RACER II is available in the variants RACER II 1, RACER II 2, RACER II 4 and RACER II 6. All variants are available with an embroidery field depth of 500mm (19,7") or 700mm (27,5") .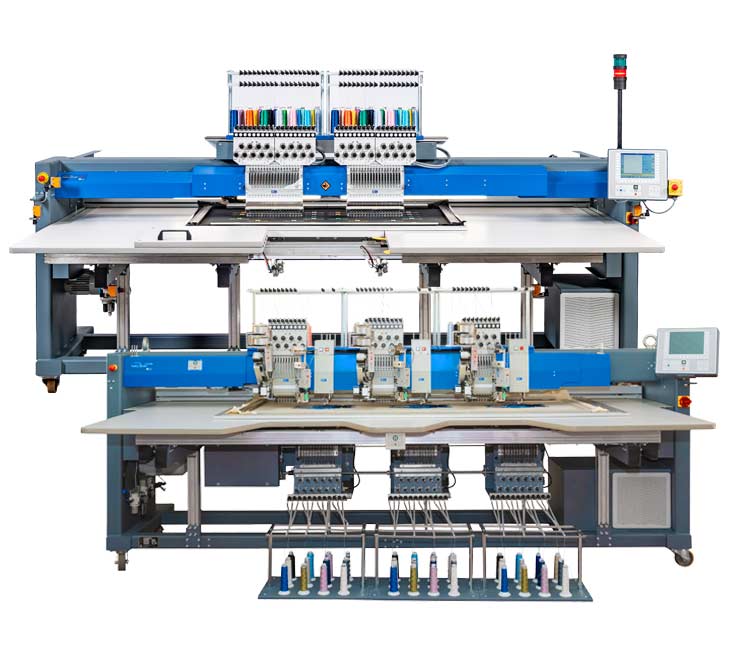 RACER Special
Available models are e.g. a RACER 0218 with double travel for one head and the RACER H 0309. This 3-head machine with F and K heads offers 12 colors for chenille. Across all brands the standard was always 6 colours for Chenille, so we are starting to set a new standard again!
Options and accessories
Our ZSK free arm embroidery machines can be optionally extended by the integration of additional equipment.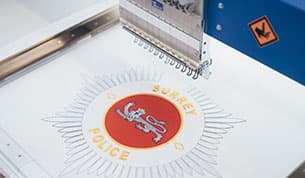 Flat embroidery
Flat embroidery with border frame meets the highest demands in all application areas. It offers almost endless possibilities to optimally present your motif.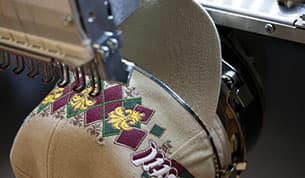 Cap frame
The cap extension allows you to efficiently implement your ideas in the cap-embroidery area and thus the production of individual caps in small series.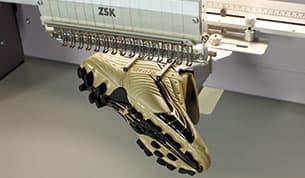 Shoes
Embroidering a sports shoe with a name, favorite team name or favorite player makes it a unique and very personal object.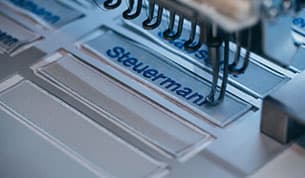 Stencil frame
With the help of the template frame, name tags can be created efficiently, with ease of handling and with little or no effort with different or even the same names.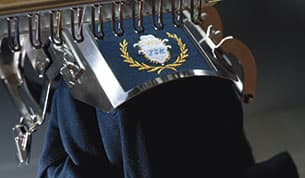 Shirt Pocket Frame
The embroidery of shirt pockets with personal initials, a company logo or fashionable application individualizes the garment and is an expression of personality or corporate identity.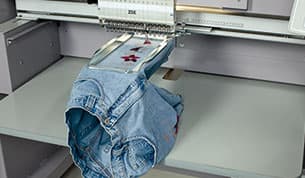 Trousers Frame
Refine trousers and add fashionable accents with almost unlimited possibilities, which not only give the garment more expression but also more individuality.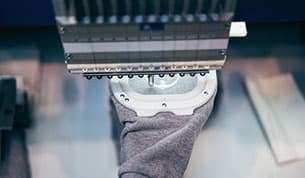 Magnetic Frame
Magnetic frames in a wide range of sizes can be used to embroider various areas of embroidered objects. The possibilities range from clothing to cuddly toys.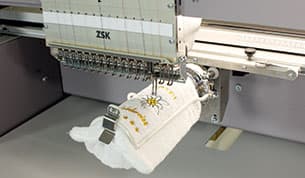 Cylinder
Use the cylinder frame especially for embroidering round closed parts, e.g. jacket sleeves, socks, gloves, bracelets etc., and to process names, logos or fashion applications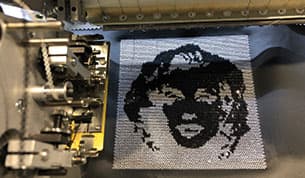 Sequin Device
With unique precision and an outstanding 1,000 stitches per minute, you not only embroider sequins in a variety of sizes but also rhinestones to the most beautiful designs.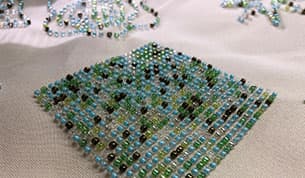 Pearl Device
With this latest development, you can now also extend the limits of possibilities with pearl embroidery and increase the appearance of your designs even more.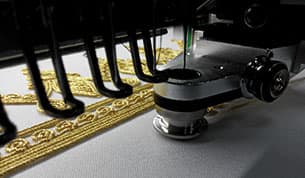 Cording Device
Do not only vary with colors but also give your embroidery designs an exciting look and feel by using different cords in different thicknesses and structures.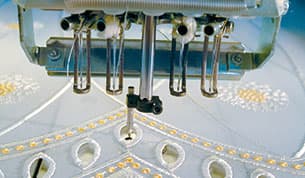 Boring Device
Using a special knife, a small hole is automatically cut, the needle and thread can be enlarged and repackaged as required, thus increasing the value of your embroidery designs.
For Commercial Use
Our free arm multi-head embroidery machines for special requirements
For large quantity orders, quickly changing motives and special requirements, our multi-head embroidery machines are the perfect solution.
In the areas of promotion and advertising, corporate fashion, clubwear and the individualization of textiles, the RACER leave nothing to be desired.
For applications that regularly require more than twelve colors and large embroidery fields (for example, the flag embroidery), the RACER XL are used, because you have an enlarged embroidery field and 24 needles.
The Main Features of the RACER
Embroidery speed 1,100 stitches/min.
Smallest tubular of industrial embroidery
Upper and lower thread guard
Automatic back stitch function
Height-adjustable presser foot
Accepts all common industrial embroidery codes
Storage for approx. 80 million stitches
Built and designed for 24/7 production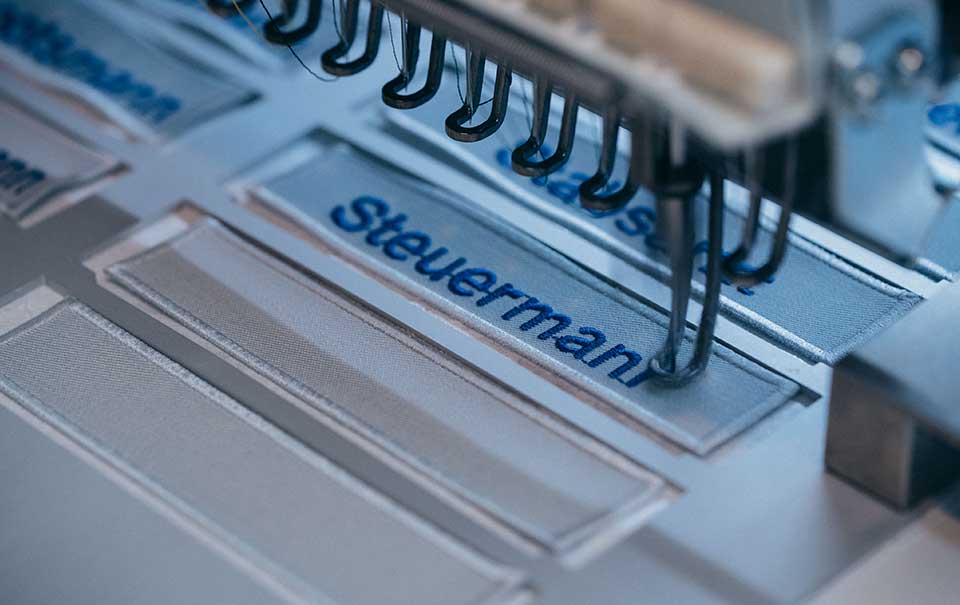 Applications
The RACER series is suitable for the processing of many different textiles. Embroider, for example garments such as T-shirts, polo shirts, jackets, pants, caps, gloves, socks or shoes. Many other products such as leather goods, bags, name badges, logos, VIP ribbons, aprons, borders, towels or flags can also be designed with RACER machines.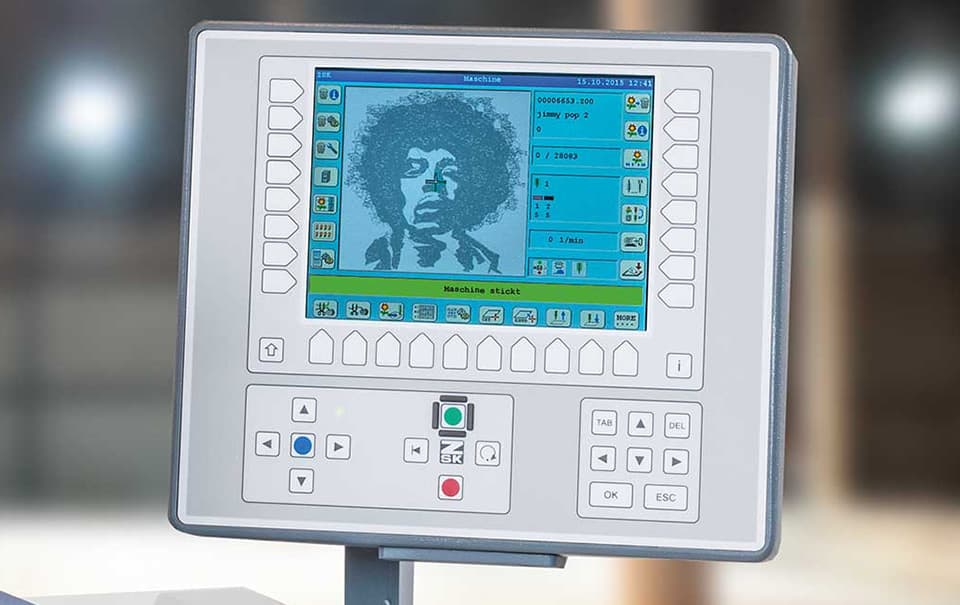 T8 Control Unit
The Interface
Intuitive and logical user guidance
For networked work
Accepts all common industrial embroidery codes
14 user languages ​​to choose from
Storage for up to 80,000,000 stitches
Supports barcode scanner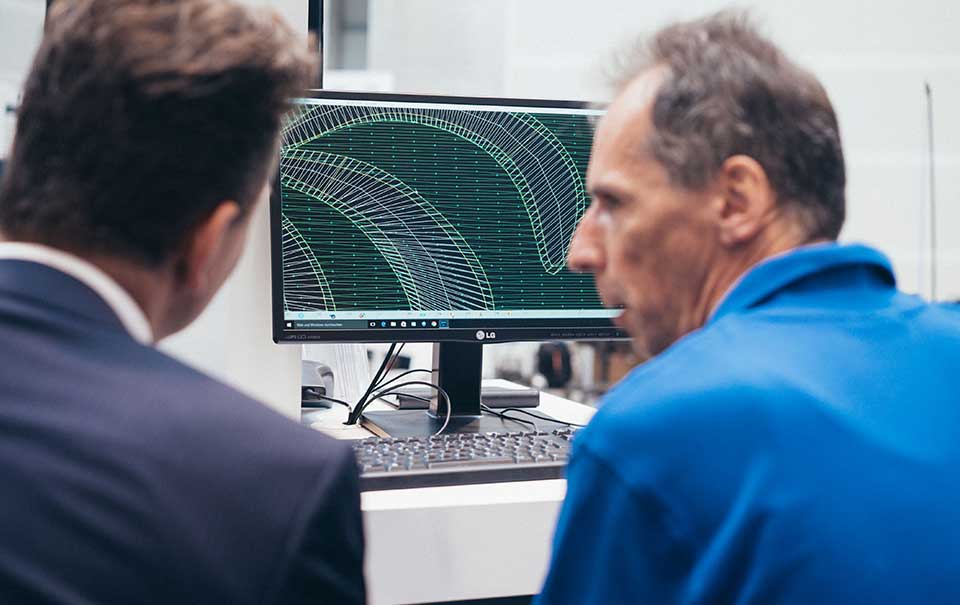 Intelligent PC Software for Your Sample Data
First-class monogram technique
BasePac - the modular software
EPCwin - the software for professionals