Smake® - Continues where the Promise of other Online Platforms Ends
Regardless of whether you want to run an online shop for individually finished textiles, but do not want to produce yourself, or if you specialize in the production of individualized textiles, but IT is a seal of seven for you: the closely related company Smake® has already solved these challenges for you with years of experience.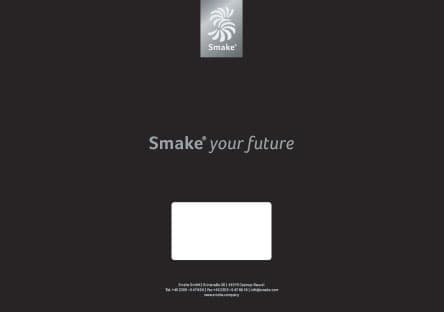 Smake® eShop - the design tool for fine textiles
The Smake® eShop is the turnkey solution that not only offers you a wide selection of perfectly photographed and measured textiles, as well as many selectable designs and embroidery designs, but also includes a virtually unrivaled design designer. Of course, you can include your own embroidery and/or print motifs in your eShop and determine all finishing prices yourself.
In addition to the simple and fluent ordering process including fast check-out, a clearer, more extensive, yet easy-to-use administration area rounds off the solution. The Smake® eShop is the perfect tool in the B2B and B2C business, with which you and your customers can automatically transmit real production data into your production.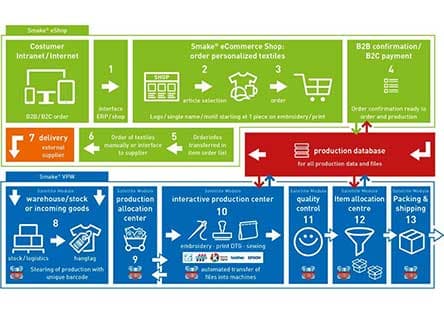 Smake® - lead production through value production workflow
The production areas of Smake® are uniquely partialized. You benefit from the many years of production experience in the textile finishing sector and, in addition, from our deep and broad IT know-how.
Scans ensure you have the highest level of process reliability, and multiple entries and the smallest errors are a thing of the past. Each scan is stored database-technically in the corresponding article history.
Customer satisfaction. Go for Value Production Workflow in the future!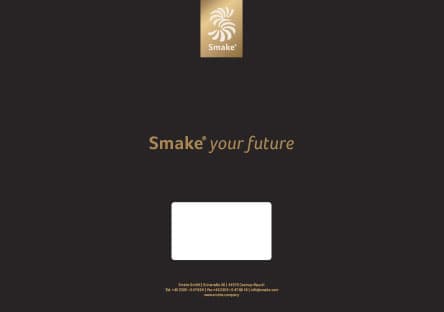 Smake® Satellite - the holistic solution
The combination of Smake® eShop and Smake® VPW to Smake® Satellite makes the solution unique and superior. In the merge, it is a closed system of online-based eShop and production tool.
The orders come automatically from the eShop - triggered by the customer. In production, every scan means security and control in the production process. It reduces potential mistakes and helps you to save a lot of time in the overall process.
Your contact person for software solutions