Maximum of Automatization and Efficiency– Innovations of Technical Embroidery
With great expertise and experience in the textile machine construction, we have developed our so-called ZSK technical embroidery systems. These machines enable the free orientated laying of fibers and wires in a 2-dimensional space on flexible carrier material – even accordingly to the distribution of forces within a structural component, known as Tailored Fiber Placement (TFP).
Embroidery that Creates Connection Paths
With innovative applications like active wire and fiber supply systems, automatic pull-through systems for the carrier material or wire hit detection our technical embroidery systems achieve a top level of automatization and efficiency. Our technical embroidery systems are designated to lay wires, fibers or tubes on a fabric and place them in any shape required for e.g. sensors, heating systems, conductive paths, structural reinforcement integrated in any textile structure. Some examples for the application of this technology for Wearables, Smart Textiles and E-Textiles are sensors (temperature, moisture, stretch) or heating systems as well as fine wire areas as connectors for electronics or signal transmission.
Other technical embroidery technologies can be used to embroider conductive threads. Wearables, Smart Textiles and E-Textiles applications are e.g. textile electrodes in different required shapes and structure or conductive paths or pads for the connection between electronic and textile. By using an attachment for functional sequin devices, sequins with LEDs can be automatically placed on a fabric or garments as well as on baseball caps. The contact of the LED sequin and connection paths will be done by embroidery of conductive threads.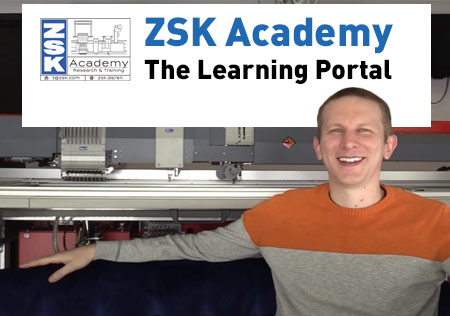 ZSK Academy - the Learning Portal
ZSK Academy learning portal was developed to teach everything in the first week of beginners training as well as advanced topic-specific lessons. Lessons include video tutorials, required files for the machine, …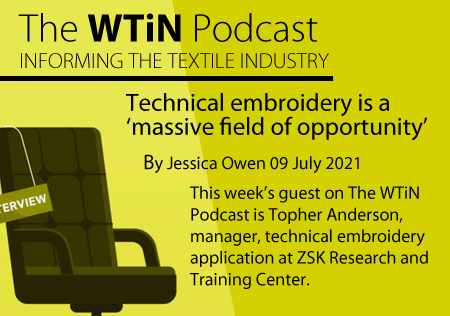 Podcast - Technical embroidery is a massive field of opportunity
In conversation with Dr. Topher Anderson, Technical Embroidery Manager, ZSK USA on the great possibilities that technical embroidery systems offer.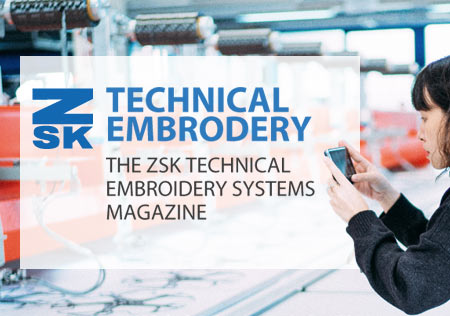 TECHNICAL EMBROIDERY
The ZSK TECHNICAL EMBROIDERY SYSTEMS Magazine
The magazine is a collection of articles on the subject of technical embroidery that have previously published in the ZSK customer magazine "CARL".