Bead Device - Embroidering Special Creations
Give your designs a more distinct expression – with our bead device. It allows to embroider a variety of beads. Our new bead device has been developed particularly for embroidering single beads and can be installed on the left and/or right side of the embroidery head. The F-Head (embroidery head) allows the installation of two devices per head. Our bead device extends existing sequin, cording and hot air cutting mechanisms

Exact Processing
By use of our device the beads are placed into the small container on top of the device and are automatically pushed onto the wire that feeds them into the placing mechanism. The beads can be embroidered with a speed of up to 800 RPM. Possible bead diameters are 2, 2.5 and 3.0 mm; the bead height should be between 1.5 and 1.8 mm. The min. diameter of the bead hole should be 0.9 mm. Each device requires a head distance of 80 mm. If you install a device on the left and right side of the head, a head distance of min. 160 mm is necessar. The bead device allows the creation of designs with up to four colours. When using a machine with D drive, two heads can be equipped with four devices and colours. By using the D drive and head selection, you can embroider special creations with four colours.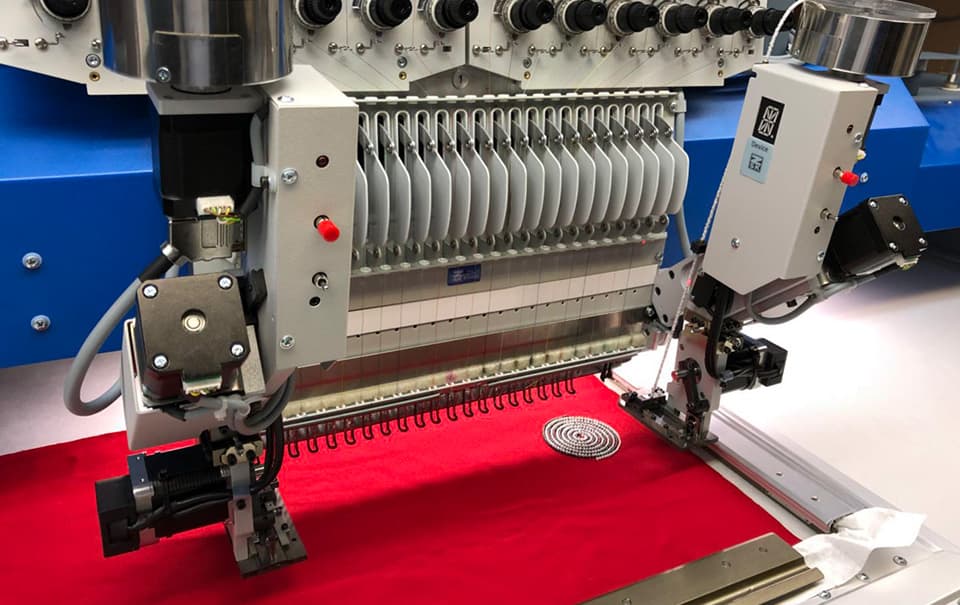 You can Apply our Bead Device on Machines Including:
Combination with our embroidery machines
We would be pleased to advise you on the combination of the pearl device with our embroidery machines.
Contact us.