Tailored Wire and Tube Placement – Functionalization of Textile Materials
Embroidery does not only overcome the challenge to improve textiles' optical properties, you can also add various functions to your products by using our innovative systems. The The W-head is one of the most versatile technologies for the integration of controlled function into a textile material. By taking a base material, W-head embroidery can stitch a secondary material in a predefined geometry to the base material to help functionalize it. The W-head allows for Tailored Wire Placement (TWP) laying of wires of a few µm to several mm thickness as well as laying of tubes for Tailored Tube Placement (TTP). The fixation wil be done with embroidery and bobbin thread by a zig zag stitch.
TWP has been a reliable and well used technology for years in the automotive heat seating industry. The placement of resistive heating wire in tailorable locations allows for efficient heating with less wasted energy. This technology has further been adapted to heating systems for other car seats, steering wheels, clothing garments, and has evolved the integration of sensing technologies into wearables. Sensors such as temperature, stretch, humidity, pressure and occupancy have all been integrated into functional textiles using TWP. Future projects investigate the applicability and design of antennas to increase the range and gain of RFID and other RF signals.
The most common areas of TWP application are:
Heating system and occupancy detection for car seats
Heating system for car steering wheel
Sensors for wearable or medical applications

Temperature
Elongation/Stretch
Pressure
Occupancy

RFID antennas to increase range and gain of antenna
TTP is a technology developed and most heavily used for its thermodynamic and heat exchanging properties. In TTP, a flexible tube made of materials such as nylon, silicon and PP can be stitched into a base fabric in complex ways that help to maximize surface area. This serves for creating a more efficient heat exchanging system. Systems can be used to provide localized cooling to a controlled area minimizing travel loss. They can also be used to provide heat to other areas that might not be accessible with resistive wire heating.
Depending on their stiffness and thickness, tubes can be placed on fabrics, foams or in reinforcement textiles for several applications, e.g.:
Heating of roof structures to avoid collapsing due to heavy snow and ice on the roof structure
Creating a heat exchanger in the roof structure for warm water in the summer
Pumping cold fluids through garments or accessories to cool down wearer in extreme heat environments
Integration of tubes into automotive interior as preinstalled cable harness into the roof lining
TTP allows for tightly controlled bends while minimizing kinking due to its distributed loading. By increasing the stitch density, the location and geometrical tolerances can be more tightly adhered to.
TTP can allow for tubes to be placed in selective regions of a castable material such as concrete to help hold the cooling locations in defined places.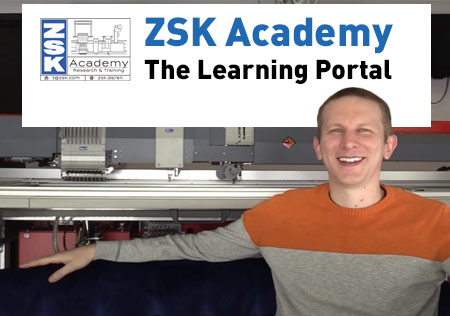 ZSK Academy - the Learning Portal
ZSK Academy learning portal was developed to teach everything in the first week of beginners training as well as advanced topic-specific lessons. Lessons include video tutorials, required files for the machine, …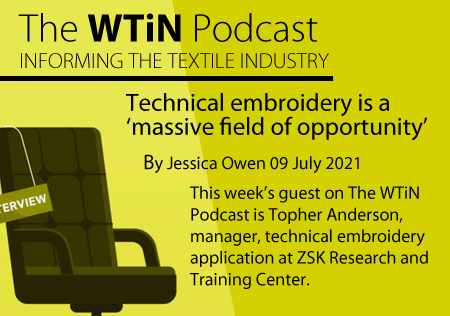 Podcast - Technical embroidery is a massive field of opportunity
In conversation with Dr. Topher Anderson, Technical Embroidery Manager, ZSK USA on the great possibilities that technical embroidery systems offer.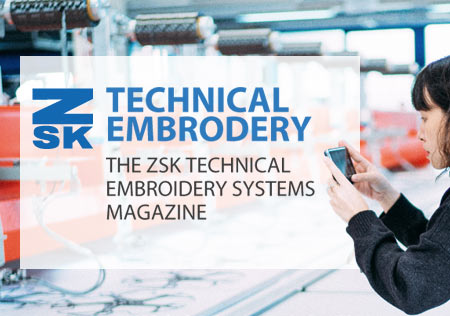 TECHNICAL EMBROIDERY
The ZSK TECHNICAL EMBROIDERY SYSTEMS Magazine
The magazine is a collection of articles on the subject of technical embroidery that have previously published in the ZSK customer magazine "CARL".