Review texprocess / techtextil 2019
Texprocess and techtextil are still among the most important places to present ZSK embroidery machines and solutions.
The combination of both shows and the easy access for visitors from one show to the other is a good solution. We are happy with the good response from customers as well as from new national and international contacts. The event was one of our show highlights in 2019.

At texprocess 2019 in Frankfurt / Main, Germany, ZSK STICKMASCHINEN presented the complete range of its SPRINT 7 Series.
The SPRINT 7 Series machines come with 18 needles, servo drives, an increased efficiency compared to the SPRINT 6 Series, a Home Function (return to centre position after each job) and the capability to save the design starting point. The 7L (400mm x 600mm) and 7XL (400mm x 1.400mm) equipped with drive systems located on the upper part of the machine body.
As the models are without sidewalls they enable embroidery of extra wide products. The size of the embroidery field sets a new standard for compact single head embroidery machines.
A highlight at ZSK Stickmaschinen was the latest ZSK Bead Device that can embroider glass beads from 2.0-3.0mm in diameter and 1.5-1.8mm in height. The ZSK Bead Device handles flat and curve shaped beads and does not require any plastic rolls. The beads can be directly filled into the device, which allows working with a variety of bead manufacturers.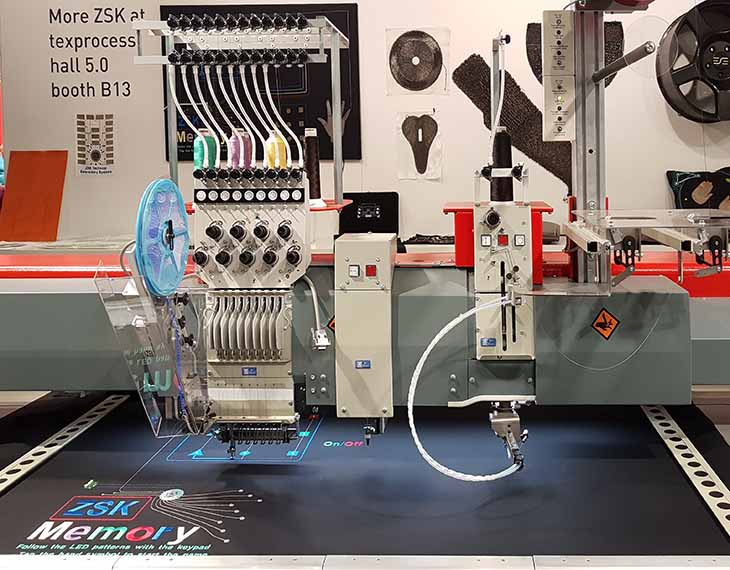 Texprocess was combined with techtextil 2019, where ZSK was showcasing in parallel its technical embroidery systems
On a JGVA 0109-550-700 technical embroidery machine, we were producing a smart memory game and also demonstrating fast laying of carbon fiber with a special new technique called HV-TFP for high volume Tailored Fiber Placement.
This new technique has been developed in cooperation with Nobrak France, and was first introduced at JEC Paris in March 2019.
HV-TFP technology, is laying down two or more rovings simultaneously. With the same number of stitches, we are now laying double or more number of rovings. The new functionality can be combined with other ZSK options like "fast fiber laying" thus leading to a considerable increase in productivity.
HV-TFP is available exclusively on ZSK Techncial Embroidery Systems.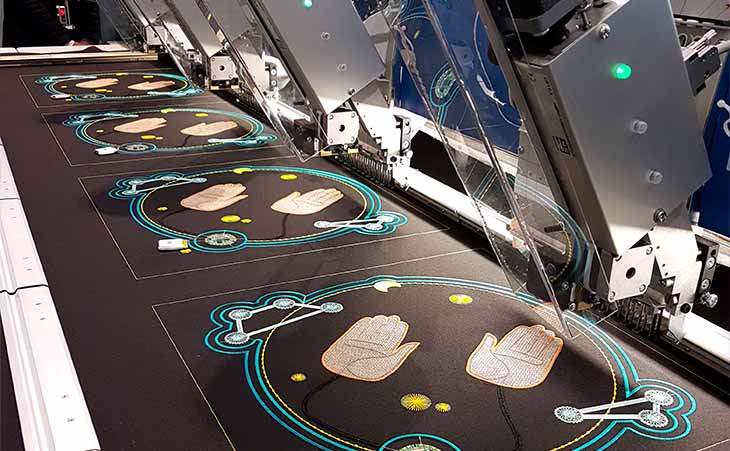 Apart from these two stands, ZSK was also participating in two special show events, the so-called microfactories.
One of these was organised by RWTH Aachen and demonstrated serial production of smart textiles.
ZSK was showing conductive yarn embroidery and its applications.
Applications such as textile touch and capacity sensors, conductive paths and pads were presented as well as the electrical connection of LED sequins and electronic boards on a ZSK RACER 6 W embroidery machine.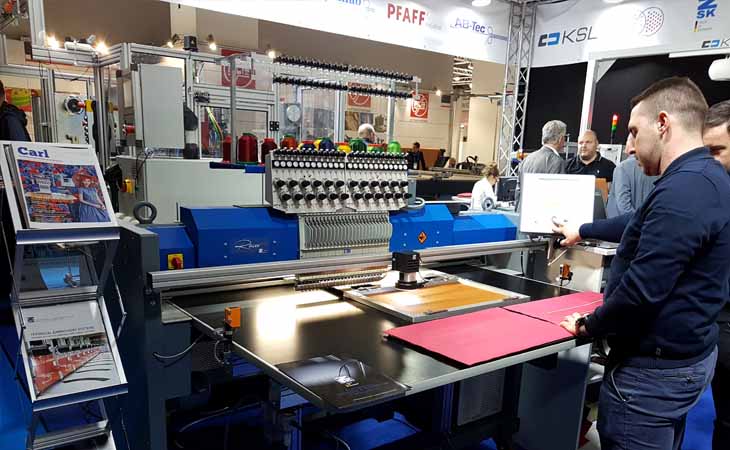 The other micro factory was organised by company Ring Maschinenbau and focusing on leather perforation.
ZSK was showing embroidery and quilting on leather with its Racer 1 XL and with the ZSK Vision System (camera-based system) for single head embroidery machines.
This system allows to overcome different tolerances and achieves perfect results. The camera system has been specially developed to meet tolerances of approx. +/- 0.3 mm, as these are unique for each part. Quilting, embroidery and cut, perforation and lamination can be easily combined in one design.
HIGHLIGHT ZSK FAMILY DINNER
It is already a tradition to have a "ZSK Family Show Dinner" during the big shows which is meant to be a meeting and networking point for ZSK and its partners and customers from all over the world.
This time we could welcome more than 50 international partners and customers from more than 20 countries relaxing after the show with regional specialities like Apfelwein (Äppelwoi) and delicate international menues.