TOP 100 - 2016's Innovation Leaders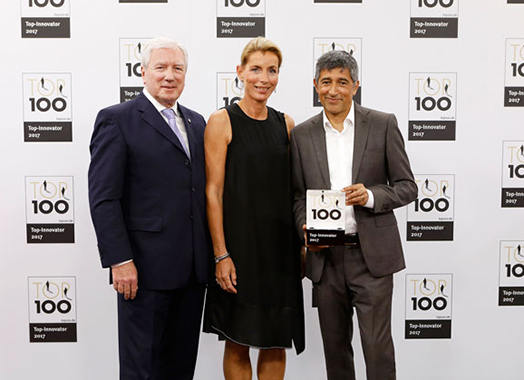 The only Benchmarking for Innovation Management in Germany
The most innovative German middle-sized businesses have been awarded for the 24th time with the TOP 100. This year, ZSK STICKMASCHINEN GmbH with headquarters in Krefeld, belongs to the circle of the honored innovation leaders. The globally active company from Krefeld met the challenge of being evaluated by an independent selection panel monitored by scientists, focused on innovation management and innovation success. Ranga Yogeshwar, mentor of the TOP100, handed over the award to ZSK Stickmaschinen GmbH last Friday, 23 June 2017, on occasion of the Summit of German middle-sized businesses in Essen, a festive event.
The broad portfolio of embroidery systems is the sum of all the challenges, the textile machine manufacturer from Lower Rhine with worldwide distribution and service units is facing successfully, despite global competition. In addition to conventional embroidery machines for classic textile finishing and individualization, their engineering department has developed and designed high-tech embroidery systems for fibrous material like carbon and conductive wire fine as hair. Products processed with the machines of ZSK Stickmaschinen GmbH are to be found at fashion show catwalks as well as in the sectors of energy generation, sports and medical technology, automotive and aircraft industry.
Especially, ZSK Stickmaschinen GmbH was able to convince the jurors of the TOP 100 competition in the category of "Outward Orientation/Open Innovation", and with their innovation processes. Co-operations with universities, product designers and constant interaction with their customers assist ZSK to identify innovation opportunities and make their embroidery systems and solutions accessible to new technology areas. "Our innovative developments and solution providing enable our customers to open up new business portfolios in their spheres of competence, thereby assisting them to stay competitive" says Julius Sobizack, General Manager of ZSK Stickmaschinen. "Thus, our customers´ success allows the brand ZSK Stickmaschinen to assert itself on the market".