SPRINT 6XL - 12 Needles and Extra Wide Embroidery Field
SPRINT 6XL has a long table top for the wide embroidery field of max. 1,, 200 mm.
Particularly long pieces, such as flags, bath towels or tablecloths can be embroidered perfectly.
SPRINT 6XL can also be operated in the cap and tubular modes.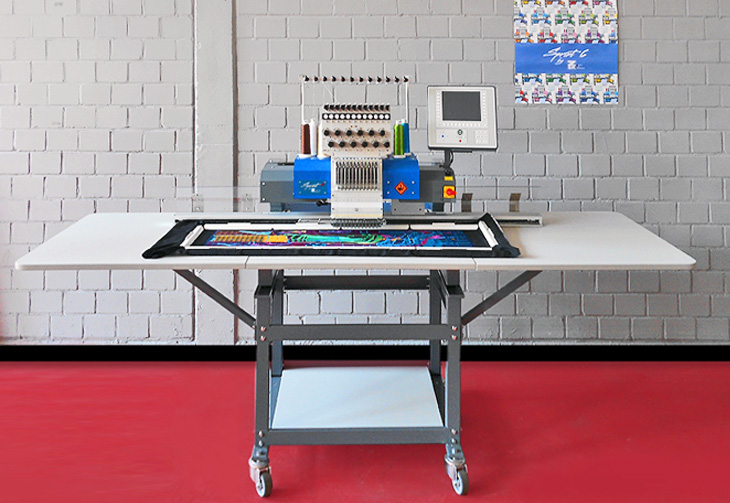 The SPRINT 6XL has a large embroidery field for wide products in the border frame with an embroidery field of 1.200 mm width and 280 mm depth.
However, the applications of the SPRINT 6XL are not limited to border embroidery; it can be quickly and easily converted to embroider caps, T-shirts and many other products in a single frame.
In tubular mode with single hoop, the SPRINT 6XL has a maximum embroidery field of 300mm x 400mm
A wide range of frames is available for the SPRINT 6 for products like shirts, jackets, shoes, socks, shirt collars, etc.
The embroidery design possibilities can be expanded with devices for sequins, beads and special threads.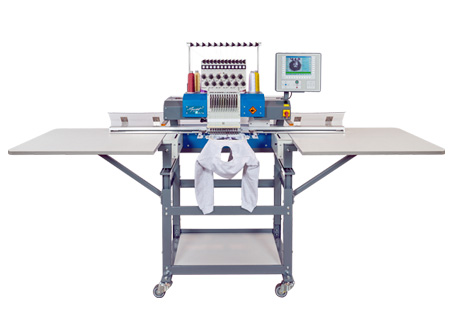 Operation Mode Tubular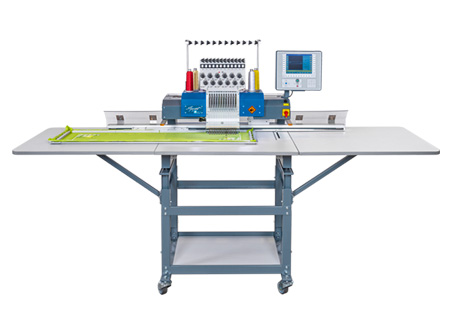 Operation Mode Border Frame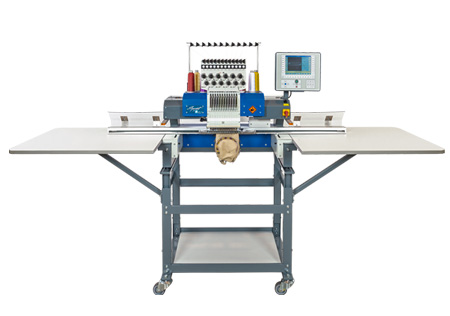 Operation Mode Cap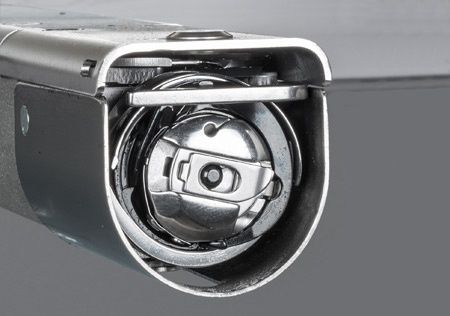 Slim tubular arm
ZSK STICKMASCHINEN has developed the slimmest tubular arm for industrial embroidery machines. Many areas and products can now be processed easily and without complications that were previously difficult or impossible to access for embroidery.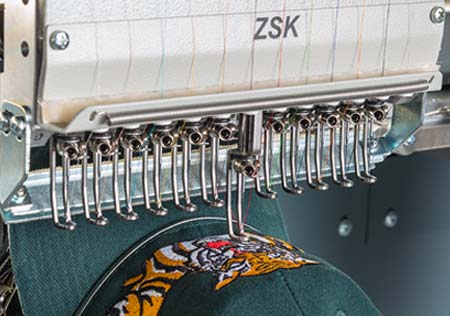 12 Needles
12 needles offer space for many different colors and different yarns for creative use. You can also improve your workflow with the placement of yarns with the highest consumption to save setup times.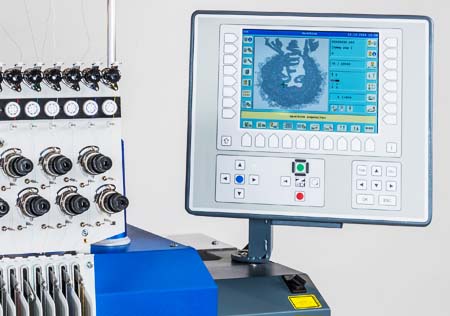 T8 - Control unit
The intuitive and logical T8 control unit offers many useful functions. Use clever options such as rotating or aligning patterns on the machine, the integrated design editor or the tool for quick monograms.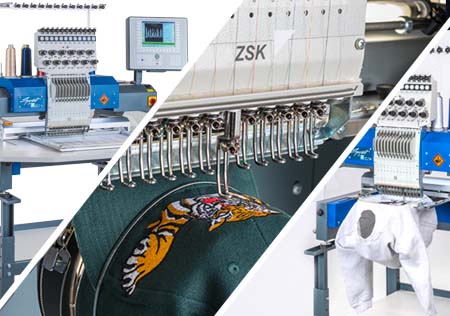 Flexible for all operation modes
The SPRINT can operate in tubular, cap and flat embroidery modes. Switching between modes is quick and easy. Different equipment variants are available to meet the various operational requirements.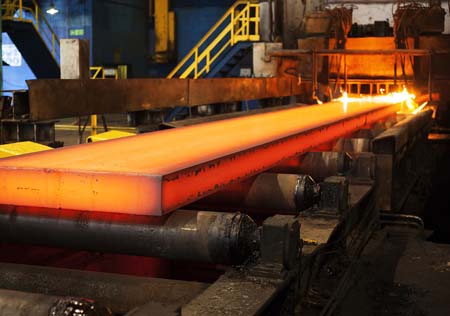 Robust industrial machine
ZSK embroidery machines are designed for industrial use. Therefore, best quality components are of highest importance for the durable and reliable operation of ZSK embroidery machines and their outstanding embroidery qualities.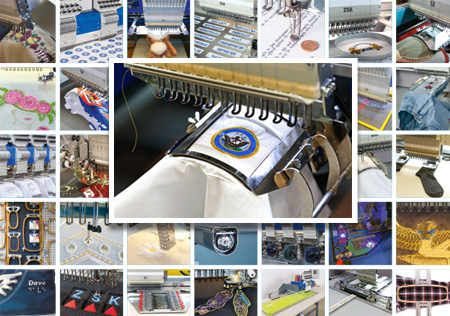 Countless applications
For the SPRINT series there are frames for almost any application: single frames for shirts, T-shirts, jackets bags etc., cap frames, special frames for shirt collars, shoes and socks, border frames, magnetic frames etc.
Standard Features
Automatic colour change

If the embroidery design contains different colours, the machine automatically switches to the needle with the correct thread colour during embroidery.


Thread break detection

With the help of the automatic thread break detection, a ZSK embroidery machine stops automatically if the upper or lower thread breaks or the thread runs out in the bobbin.


Automatic thread tension adjustment

The automatic adjustment of the thread tension ensures a constantly optimized transport of the thread to the needle and thus enables high-quality embroideries.


Height adjustable presser foot

Adjust the presser foot to the height of the embroidery material in order to achieve better embroidery quality.


Languages

The T8 control unit can be operated in 14 different languages: English, German, Italian, French, Russian, Portuguese, Dutch, Spanish, Turkish, Polish, Hungarian, Greek, Bulgarian and Romanian.
Large integrated memory

The T8 control unit offers integrated memory for approx. 80 million stitches and thus provides space for a large number of your frequently used embroidery designs.

Barcode reader

With a barcode reader connected to the T8 via USB, barcode patterns can be loaded from a connected network and various control commands can be executed.


Connectors

A slot for the standard RJ-45 network connector and three USB ports for other devices are available for communication, memory expansion and other functionalities.


Network

The T8 works with Microsoft's network protocols and thus enables simple communication with connected company networks, digital workflow solutions or the ZSK operating data information system MY.ZSK.


MADE IN GERMANY

This machine was designed, constructed and manufactured in Germany for the high requirements of the embroidery industry.
Safety - Workplace and Workflow
Adapt your plant to operational requirements.
Our machines are already set up to meet high safety standards and comply with legal requirements. We also offer optional equipment that allows you to adapt the safety of your plant to your in-house requirements.
Safety Feature - Light Barriers

A light barrier installed in front of the working area ensures greater work safety during embroidery. As soon as the operator enters this light barrier, the embroidery process is automatically stopped.

Safety Feature - Emergency Stop Switch

The emergency stop can be used to interrupt the power supply and bring the embroidery machine to a standstill in the event of danger or to avert danger.
Safety Feature - Cover for Thread Take-Up Lever

With the thread take-up lever cover closed, 100% prevention of careless or accidental contact and injury with the levers moving rapidly up and down during operation.

Securing Workflow - Status Display

The status display provides a quick overview of the function of the embroidery machine from a distance via a multicolored light signal.
Good to know!
Particularly for embroidery on long pieces, such as flags, bath towels or tablecloths. Operation mode can be changed quickly for caps, hats, shoes or any kind of clothing
The slimmest tubular arm in the industry allows embroidery in confined spaces
Perfect for small and large companies
Robust embroidery machine for industrial 24/7 use
Automatic back stitch function
On average only 160W consumption during operation
Built-in universal power supply, 110 V/60 Hz and 220 V/50 Hz
Countless embroidery hoops and sizes for all embroidery needs
360mm wide embroidery on caps
Optional devices for sequins, beads, cords, boring and hot air cutting
Coloreel suitable
Integrated design editor in the T8 control unit
Large internal memory capacity: up to 80 million stitches
Handles all common industry codes such as DST, DSB, KSM, DSG, EXP and more ...
Optional and retrofittable laser pointer
Loading of designs via network
LED illumination of embroidery area
Reusable environmentally friendly packaging
Applications

Border frame
For applications like patches. Embroidery field max.:
1.200 mm x 280 mm

Shoe frame
For personalization of shoes, e.g. workwear or sports

Socks frame
For embroidery of monograms, logos or other ornaments

Cap frame
For embroidery on caps, also 3D. Embroidrey field max.:
360 mm x 70 mm

Shirt pocket frame
Many options to embroider shirt pockets e.g. with names or logos

Stencil frame
Easy embroidery of ready-made fabric labes, e.g. for name tags

Belt frame
Magnetic clamping frame for belts or straps. Embroidery field: 200 mm x 90 mm

Shirt collar frame
Shirts can remain in the pak when embroidering with this frame

Mighty Hoop
Faster embroidery with the magnetic frames from the USA.

Foldable frames
The foldable metal frames are availaible in many variants

Smake Jump
Accurate and reproducible design positioning
Heads / Needles
No. Heads
1
No. Needles
12
Embroidery Field
Width
1.20 mm
Depth
280 mm
Cap
360 mm x 70 mm
Border Frame
1.200 mm x 280 mm
Tubular
460 mm x 280 mm
Embroidery Speed
Cap
1.000 rpm
Border Frame
1.200 rpm
Tubular
1.200 rpm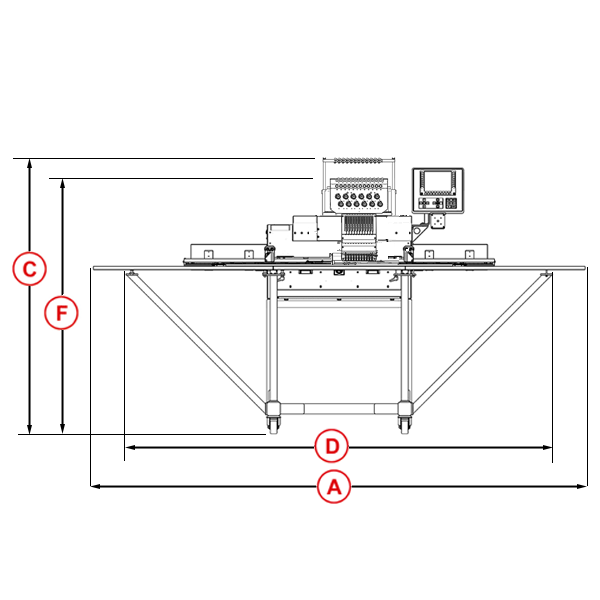 SPRINT 6XL - Front View
| | | |
| --- | --- | --- |
| Dimensions | Maximum | Minimum |
| Width | 2.590 mm ( A ) | 1.850 mm ( D ) |
| Height | 1.580 mm ( C ) | 1.470 mm ( F ) |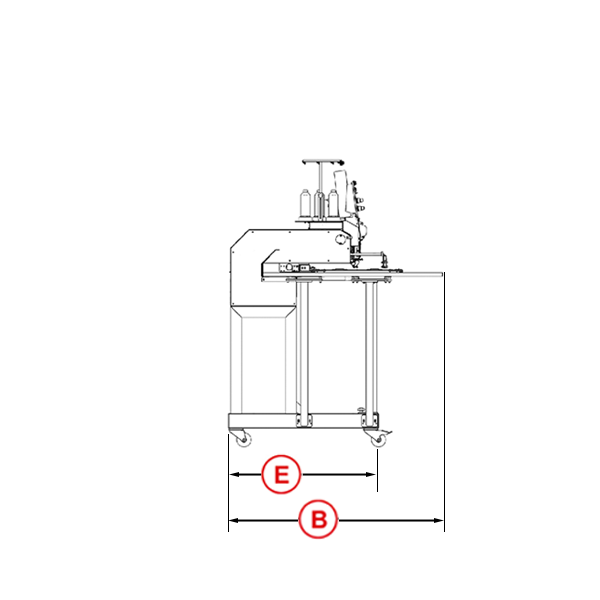 SPRINT 6XL - Side View
| | | |
| --- | --- | --- |
| Dimensions | Maximum | Minimum |
| Depth | 1.000 mm ( B ) | 720 mm ( E ) |