Speed up your embroidery business with 2.020rpm
It is a special machine - the new RACER-R by ZSK STICKMASCHINEN. A statement of German engineering, an outstanding achievement by talented engineers and a machine that deserves a special appearance.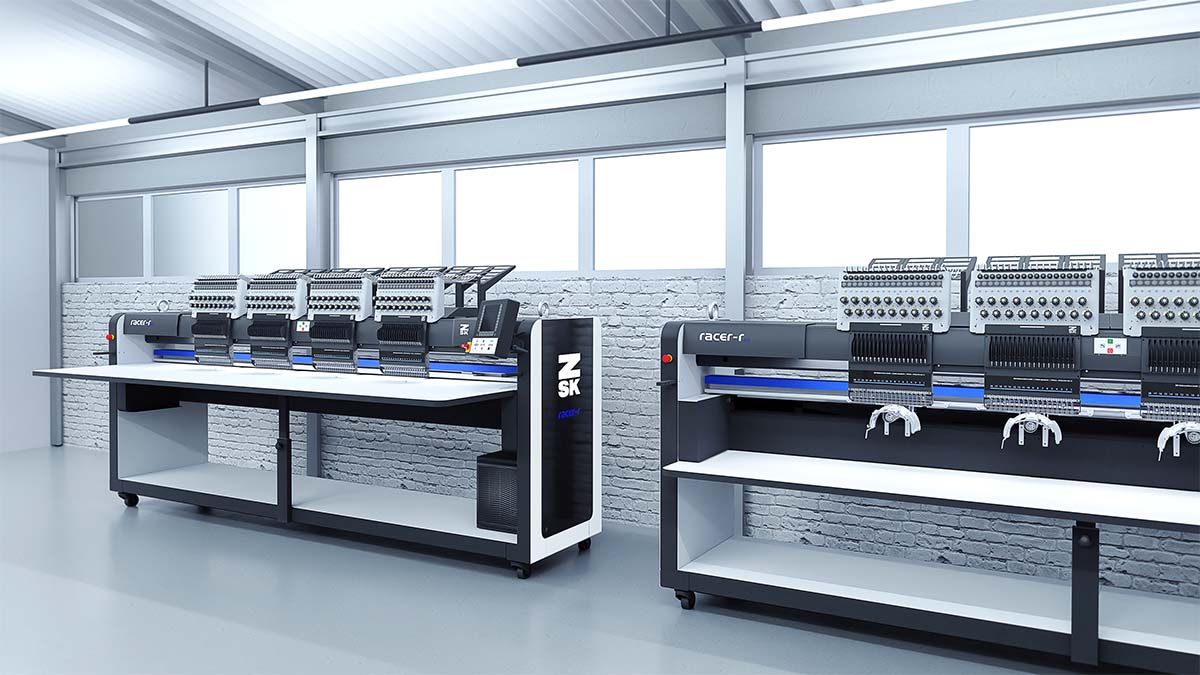 The striking colour and material contrasts of the predominantly black and white design are just as much a statement as the clear, stringent lines - a statement of specialness, strength and self-conviction, as well as clarity, professionalism and quality.
ZSK Stickmaschinen GmbH made in Germany is a guarantee for reliability, quality and durability, as well as for uncompromising embroidery results.
With a classical reduced design, the unobtrusive design of the RACER-R embroidery machines calmly emphasises the brand values of ZSK STICKMASCHINEN and highlights the smooth and quiet running of the machine even at the highest speeds. The solid yet compact design combined with a clear colour scheme and fine details creates the balancing act between tradition and innovation.
Embroidery as a traditional production process becomes future-proof and efficient through the use of intelligent IoT technology and the revolutionary R-head with its 2020rpm.
To meet the requirements of our customers, we have placed a consistent focus on user-oriented ergonomics and have been able to further optimise the efficiency of the machine. A clean and reduced appearance and a revised layout of the HMI interface ensure intuitive and comfortable operability of the machine. Improved access speeds up processes in daily use, as well as during maintenance work.
The modularity and flexibility of the R-head machine is illustrated by the additive design. Well-known units can also be used in conjunction with the R-head, making the machine a profitable all-rounder. The necessary safety is provided by light barriers that can be adapted to the respective application, as well as the light concept now integrated as standard to indicate the machine status.
To increase usability, the individual steps of using the machine were gone through, limits were scrutinised and potentials for the individual assemblies were determined. On this basis, concepts could be developed and discussed. For concepts that were initially unthinkable, innovative solutions were developed through interdisciplinary cooperation. These solutions of the individual concepts now fit together coherently in the consistent design of the R-head machine.
Different design concepts were developed during the design process. The entire Krefeld site had an influence on the choice of design. As a result, the know-how of all departments, from application technology to electrical engineering to service technology, was included in the process and a design was chosen that optimally represents ZSK Stickmaschinen GmbH and its values.
Even at first glance it is clear that the R-head machine is a special embroidery machine. Groundbreaking technology enables almost twice the speed of conventional embroidery machines, maximum productivity, optimised ergonomics and a powerful design that combines aesthetics and functionality - that is the new R-head machine by ZSK Stickmaschinen.