INNOVATIVE PRODUCTS
BY EMBRO REALIZED WITH TWP TECHNOLOGY ON ZSK TECHNICAL EMBROIDERY SYSTEMS
EMBRO BACKGROUND
EMBRO – short for embroidery – is an innovative German technology company based in Auerbach, Vogtland, which is known as a regional hotspot of embroidery and lace production since long.
The company has several years of experience in the field of technical embroidery and technical textiles. With a distinct specialization and orientation towards the field of functional and smart textiles, EMBRO provides expertise to its worldwide customer base e.g. in production of electric heating conductors, heating mats, textile sensors, structural RFID antennas as well as composite applications.
FROM STANDARD TEXTILE INDUSTRY TO SMART TEXTILES
The founder and CEO, Markus Flechsing has a business administration background and worked in food industry and retail before he changed into traditional textile industry. From there it was not too far to smart textiles and thus to embroidery.
STARTING WITH TWP PROJECTS AND COOPERATION WITH ZSK STICKMASCHINEN
In 2013, Markus Flechsing founded his technology company EMBRO. From the very beginning, Flechsing looked into TWP (Tailored Wire Placement) and already saw a wide range of applications for this technology.
To find the ideal equipment, Flechsing was doing some research, checked different products, technologies and suppliers in the market, and among other manufacturers also met with ZSK in Krefeld.
After thorough checking, he decided in favour of the ZSK systems, which Flechsing justifies as follows: "ZSK offered the best options for TWP, and developed some new and very important options for the machines with us. The ZSK staff has Know-How and has always been open minded for our needs" says Flechsing.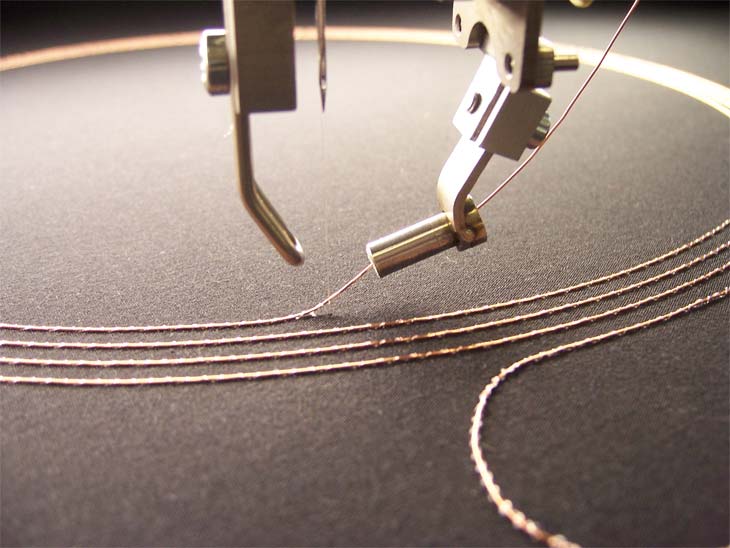 Today, EMBRO is specialized in developing and producing technical textiles with plaiting / embroidery machines. With the ZSK computerized embroidery machines conductible threads, wires or heating conductors are placed and fixed onto the support material. One advantage of the embroidery technique is the durable and highly flexible incorporation of the wires and the support material.
"Our projects are always teamwork" says Flechsing. "The customer explains his needs and requirements. Based on that we create CNC Files and start a sampling. Then the customer tests the samples in house with the environment. After a first testing, the results are being discussed, followed by refining work until the customer is satisfied and we have a working product. Development projects can be running from 3 months up to 5 years, and quantities involved may vary from one hundred to one million parts.
For sampling, EMBRO uses 1 & 2 head ZSK machines, and some 4 & 8 head ZSK machines for production (12 meters long). "We have one of the world largest series embroidery machine which can lay parts of 2.140 x 1.900 mm" Flechsing proudly states.
"TWP and TFP are our core businesses. The production is being done with ZSK technical embroidery systems, which means the technology and the machines are fundamental for our business and our success."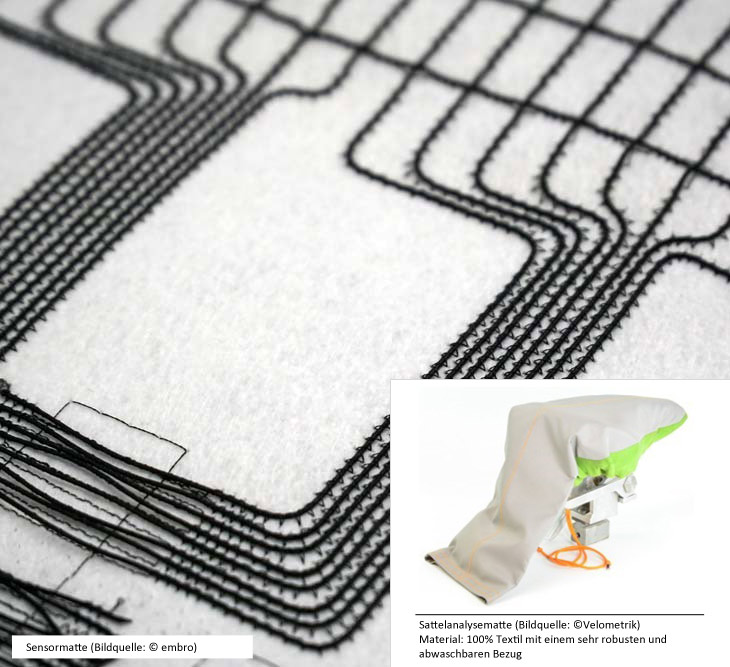 PROJECT "Bike Fitting"
One of EMBRO's many interesting projects was the development and production of textile pressure sensors to measure pressure and pressure distribution on a surface for a bike saddle.
Bike Fitting, a German company from the bicycle industry, was looking for a digital system to determine the individual fit of a saddle in order to recommend optimal seating comfort to the cyclist. The previously used mechanical determination was cumbersome, sometimes too imprecise, and therefore needed to become digital.
In close cooperation with the customer, EMBRO developed a textile-based suface sensor that was created with TWP (Tailored Wire Placement) technology on ZSK technical embroidery systems. This surface sensor was integrated into a saddle analysis mat which is pulled onto a special stool to determine cyclists' optimal saddle shapes individually with seat bone measurement and pressure distribution analysis.
TWP PROCESS - AND ZSK TECHNICAL EMBROIDERY SYSTEMS
EMBRO has the know-how and the technical equipment to manufacture textile pressure sensors in any size and shape using TWP technology. In the TWP process, flexible wires or hoses are placed and fixed on the carrier material using a ZSK embroidery machine.
As described in the Bike Fitting project, non-insulated wires are applied to a carrier material. Using two of these layers and a special semi-conductive material as an intermediate layer, the pressure can be measured at different points over the entire surface by changing the resistance.
The advantages of the TWP process are that the conductive sensors can be laid as desired - with any number of measuring points and free material selection. This results in a significantly higher flexibility and bend resistance of the sensor material than with conventional methods.
At the same time, you are extremely flexible with regard to the shapes and sizes of the carrier material, and even sizes of 1800 x 1000 mm are possible.
VISION AND USP
"Our vision is to become the most innovative technical embroidery company worldwide with the widest range of products," declares Markus Flechsing, CEO.
Being asked for EMBRO's USP, he answers "Our key to success is that we focus on customer needs and offer solutions for their problems. And we have technology know-how especially about the TWP process, and first-class equipment with ZSK embroidery systems in house!"
Learn more about Tailored Wire Placement(TWP)