Gardening the Future – History
ZSK STICKMASCHINEN looks back on more than one hundred years of a successful history in textile engineering. Founded in 1984 by former employees of Zangs, a renowned company with great tradition based in Krefeld, ZSK STICKMASCHINEN has acquired the market leadership in a highly competitive line of industry: German high-class workmanship has always been their focus, each customer gets a machine in accordance with his individual requirements, the production is subject to rigid acceptance standards, each machine is made to measure to some extent.
Ercigoj and ZSK STICKMASCHINEN have a decades long friendship from the days of Zangs, when Ercigoj owned Zangs embroidery machines. In the 1990's Ercigoj company purchased the GiS digitizing software, with the help of which they have been creating large format embroideries for a while, and also cooperated with ZSK STICKMASCHINEN during the ZSK Open House exhibitions in order to show to the world more than just embroidery of promotional items: to show that embroidery can be true art. Ercigoj also works with the Racer 1XL machine by ZSK STICKMASCHINEN.
Ercigoj became a regular exhibitor, displaying embroidered artworks in Krefeld with several million stitches and hundreds of different thread colours. Pieces of embroidered art by Ercigoj have been sold for six digit figures and are today decorating offices and homes of well known people all over the world.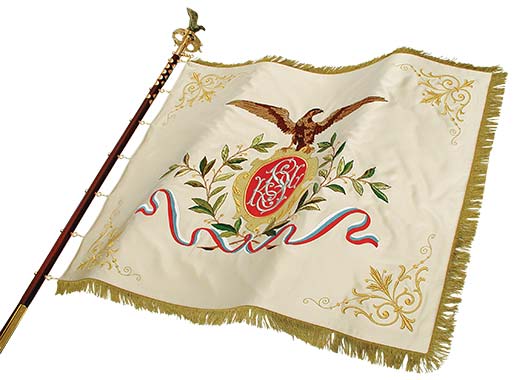 Charity
The idea for "Gardening the Future" was created at the ZSK Open House 2016 with the release of the ZSK Racer 1XL. Ercigoj and ZSK STICKMASCHINEN are starting a project that makes the craft of digitizing and the potential of embroidered art more accessible and to continue the proud history of embroidery. The aim of the project is to support children around the world and grow awareness for the beauty of our craft.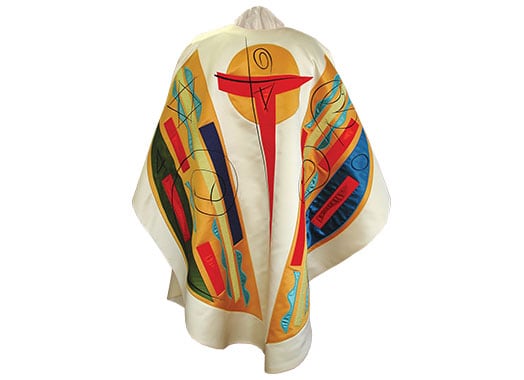 An artwork based on a motif by Franz Marc was digitised over a course of several months. The result with more than 1 million stitches and 41 colours will be produced in a limited edition of 99 pieces. 50 pieces will be donated as part of "Gardening the Future" and 49 pieces are distributed by Ercigoj. "Gardening the Future" will collect donations at fairs and events at 25 locations around the world. Every person or organization that donates to the cause during one of the events will have a chance to win one artwork in a lottery draw, and another piece will be donated to each institution that will receive the financial donation collected at the event.
Franz Marc
The painter Franz Marc was one of the key figures of the German Expressionist movement. His work is characterized by bright primary color, abstracted portrayal of subjects, stark simplicity and profound emotion.
He is most famous for his images of brightly colored animals, especially horses, which he used to convey profound messages about humanity nearing its downfall. He looked to the primeval world as an antidote to modern civillisation, from which he felt increasingly alienated. Nature and animals were more than just pleasing to him; they were spiritual and a means of relocating what had been lost in toxic modern times. Thus, his paintings of animals are suffused with an almost meditative reverence.
The vibrant colours of the horse and landscape are not chosen just for their striking effects. Marc used color symbolism in his compositions; blue usually represents things male, severe, and spiritual, while yellow represents feminine joy, and red encases violence and danger. The horse is also youthful, its skin smooth and unblemished and it radiates muscular potency and energy. The creature is a being of a higher order with ethereal, otherworldly power. An innocent natural force that opposes beeing corrupted by man. The painting therefore celebrates the idea of spirituality battling materialism.
Ercigoj in cooperation with ZSK STICKMASCHINEN recreated this motif as embroidered art, emphasizing the vibrancy of colours that Franz Marc himself focused on, while adding a third dimension to the image: embroidery threads give the art a life of its own, reflecting light in different directions and adding depth.
From generation to generation since 1923
The family company Ercigoj Embroidery is led by the owner Boštjan Vidmar and is built on tradition. We have been passing knowledge from generation to generation since 1923, combining proven practices with modern technology.
Throughout history, we have been creating the highest quality embroidered products, ranging from banners and ecclasiastical embroidery, to various unique and made to order projects for customers who demand perfection.
Knowledge
Experience and knowledge helped us to bring an idea to life – to create something extraordinary, an embroidered piece of art in large format. The measures of these embroideries can sum up to several square metres. Considering they are made in one piece, with millions of stitches – something unheard of – it is a trully pioneer project in a global sense.
The warm texture of the artworks is just calling out to be touched and experienced under differrent angles of light as the interwowen threads breathe new life into images. With threads and needles we can create photorealistic embroideries, replicas of photographic motifs or make high art pieces in collaboration with renowned artists that demand painters solutions.
We always strive for perfection, and perhaps more importantly, we always welcome a challenge: projects that anyone else might deem impossible, we will undertake and deliver the very best quality.
Learn more about our embroidery machines