World's first 'Embroidered' Composite Bicycle Saddle using ShapeTex™ Manufacturing Technology
The pedal bike has now become the eco-friendly mode of transport of choice, and over the past 10 years the sector has seen an unprecedented growth alongside technological development of various aspects of push-bike design from cutting edge aero frames to lightweight components such as handlebars, wheels and saddles to name a few.
In October 2017, design and research work in the area of bicycle saddles was started by two mechanical engineering students in the School of Engineering and Computing at Oxford Brookes University. Industrial collaboration with Shape Machining Ltd. based in Witney has led to the development of a lightweight bicycle saddle over seven months that makes use of the ShapeTex™ composite manufacturing method whereby carbon and nylon commingled yarns are embroidered onto a nylon film to produce a net-shaped preform which can then be press moulded in under 5 minutes.
The initial phase of the development included some research on aspects of saddle shape that provides comfort, for example inclusion of a central cut-out that helps reduce perineal compression. Studies involving the effects on stability of different shell geometries were also considered. Four different preform designs were modelled in ANSYS FEA software using composite modelling tools.
This stage helped gain an insight into an optimal shape and fibre orientations in order to maximise shell strength and inform laminate design. As part of the modelling process some of the mechanical properties were determined experimentally by means of simple pull-tests of unidirectional carbon fibre test specimens that were manufactured using the ShapeTex™ process.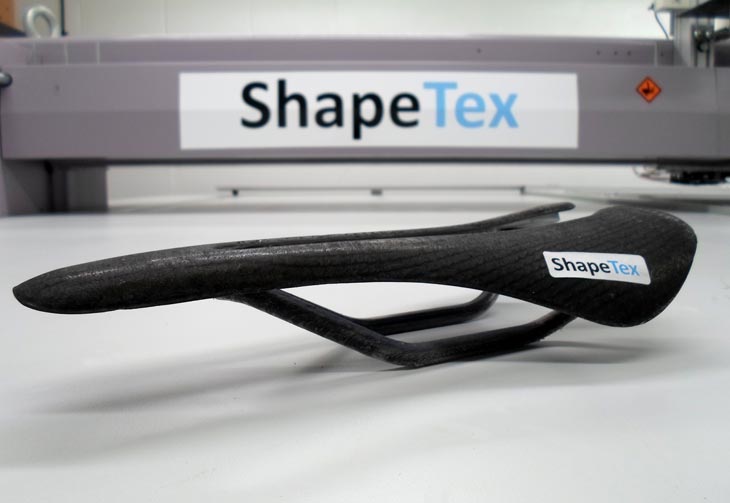 In parallel, an extensive two-part press-tool mould design process was carried out by the students with limited guidance from SHAPE's experienced engineering team. This process did pose some challenges due to some complex geometrical features of the saddle shape such as curved surfaces, central-cut out etc. The metallic moulds were CNC machined out of an aluminium billet alloy by another project partner, Borga Cycles based near Milan in Italy. The high curing temperatures for the preforms were taken into account of as part of the design process.
To further the visual aesthetic and provide a consistent surface contact in the mould, a non-woven fabric blend of recycled short carbon and nylon fibres was stitched onto the 2D preform. The finalised preform was placed inside the mould and subjected to high pressures and temperatures.
The use of MarkForge 2 composite 3D printer was used to produce composite filament saddle rails. In this instance, this proved more cost effective and less complex as opposed to producing moulds. A combination of an appropriate continuous carbon fibre percentage infill, and optimal fibre orientation within the rails provided the required stiffness and strength. The printed rails were bonded to the shell using acrylic adhesive 3M DP8405. Prior to this, a number of lap shear tests were carried out using the aforementioned acrylic adhesive in order to assess its strength.
Finally, the bonded prototype saddle was attached to a bicycle seat post for some preliminary testing. Four different cyclists rode the bike and the saddle structure remained integral. Although the testing was very limited in scope, it did demonstrate the potential of using such manufacturing technology for load bearing applications.
In summary, the bicycle saddle project has proved to be an excellent example that demonstrates the potential of academic and industrial collaboration to further explore the ShapeTex manufacturing technology and produce tailored composite preforms for specific applications.
World's first 'Embroidered' Composite Bicycle Saddle using ShapeTex™ Manufacturing Technology
SHAPE Machining
specialises in machining metallic tools, epoxy tooling block patterns, Rohacell foams and the trimming of carbon fibre parts for the automotive, motorsport, and aerospace industry.
SHAPE Engineering
offers a full range of design, analysis, and project management services to support composite part and tool manufacturing projects.
SHAPE Composites
supplies thermoset and thermoplastic composite preforms and parts ranging from bespoke autoclave cured carbon parts to larger volumes of hot pressed formed carbon parts.
ShapeTex
Optimised carbon fibre preform design & manufacture.