ZSK STICKMASCHINEN - Whitepaper
Exclusive content of ZSK TECHNICAL EMBROIDERY SYSTEMS
A Guide to Technical Embroidery
How to find the right additive textile manufacturing equipment for your business needs
Technical embroidery is an emerging field in additive textile manufacturing where flexible materials and functionalized fabrics are created for a wide variety of uses and purposes.
Existing products and structures that have been developed with other additive manufacturing techniques are quickly being converted into technical embroidery for high throughput production runs.
These embroidered parts are produced with highly automated equipment reducing labor costs and increasing overall cost efficiency while adding new functionality to fabrics and substrates that has never been seen before.
Register to download the ZSK Whitepaper "A Guide to Technical Embroidery" to find out more!
WHITEPAPER: A GUIDE TO TECHNICAL EMBROIDERY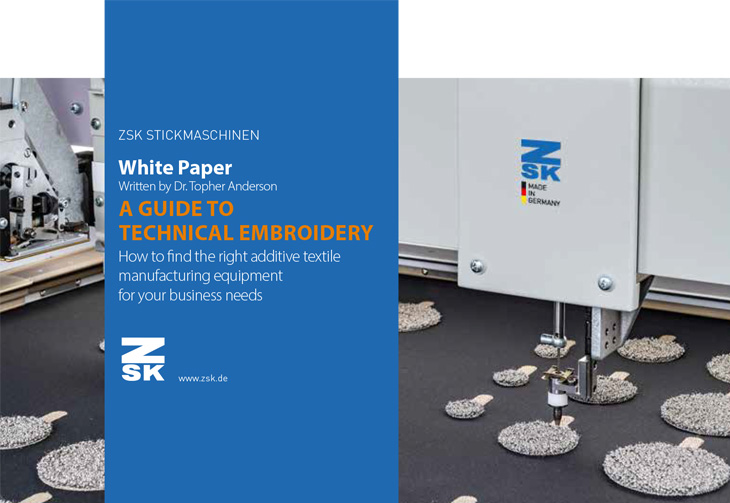 In this guide, you'll learn about:
Business advantages and approaches of using technical embroidery with ZSK.
Key parts of a Technical Embroidery Machines.
Types of materials used in technical embroidery.
Types of Technical Embroidery Technique and their applications.
The advantages of ZSK and machine' automated options.
How to reach out and get started with exploring your product, line, or idea.
REGISTER TO DOWNLOAD
We want to know who is interested in our whitepapers and what the reader thinks about them. Therefore we ask for a registration for the download.
Unsere Messetermine
Kommen Sie vorbei und entdecken Sie das Potenzial unserer ZSK-Stickmaschinen für Ihr Business!