How To
Twelve steps to creating small embroideries
Very small and detailed embroidery
Over the last few years, I have been working on very small embroidery designs. What seemed impossible to me in the 1980s and 1990s is now becoming possible. This is because thread companies like AMANN have produced very thin threads, which makes it possible to realize very small and detailed embroidery. There seems to be hidden completion in the industry amongst manufactures of all branches, who can produce on an embroidery machine the smallest letters or detailed designs to spark the interest of customers. The results of this effort have been very impressive including letters 1mm tall and button size embroideries with super small detail. As interesting and nice all this is, there are critics who say this is not reality; the fabric used in demos is one where every embroidered design looks great. Alternatively, how will this thread, with such small stitches and thinness perform under production conditions? The reality check!
1. Consider types of fabrics
To consider which types of fabrics have the best surface to realize small or detailed embroidery designs, here are some suggestions.
Woven fabric like for work wear, dress shirts or lightweight woven for backpacks and jackets.
Badge – emblem materials.
Denim.
Softshell.
2. Design size
This will be the first factor in which one would decide the correct thread weight to choose.
3. The design type
A compacted design in which the design elements are widely spaced.Fine thin details Lettering font type, script, block, serif or letters with thick thin bars just to name a few. Check for the above 3 points before starting to digitize the design. This will help in choosing the correct thread weight and design adjustments, which need to be made in order for it to be embroidery friendly. Down below is an overview of the product line Serafil from AMANN.
The thinner the thread, the more stitches you will need to fill in. Hence, it is better to consider which of the thread weights will give you the optimum coverage without sacrificing too much of the details. In some cases, this would be the Serafil fine ticket 60. If you see the details are not defined enough, then the next logical choice is Serafil fine ticket 75. With both of these thread weights the width of satin stitch bars should be at least 1mm in width, in order to have a quality result. The Serafil fine ticket 100 is perfectly suited to create super fine embroidery details. The emphasis is on the words SUPER FINE. With this thread weight, you can create satin bars less than 1mm in width or running lines forming small integrate designs.
There are no real restrictions or rules which say that you must use this particular thread weight for this or that design and design size. The article is just to give you a guideline to help you with your decisions. You will find out on your own what works or doesn't work for your embroidery project. Like most things in embroidery, in the beginning, it is always trial and error until you find your way. Each embroidery project brings with it a new playing field.
Some tips on digitizing for thin thread weights.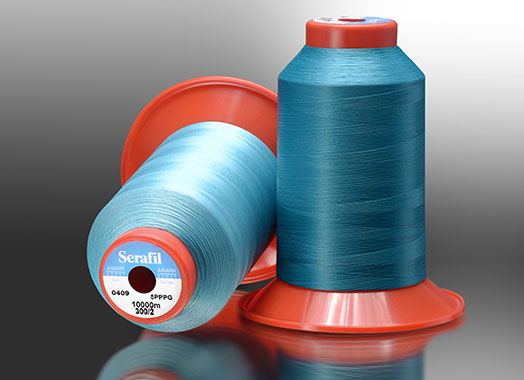 Serafil fine is a thread line produced by AMANN. There are three-thread weights in which you can choose:
100% Polyester multifilament
Colour range: 100
Ticket 120/2 is equal to embroidery # 60
Ticket 200/2 is equal to embroidery # 75
Ticket 300/2 is equal to embroidery # 100
Application:
for finest details and smallest lettering up to 1.5 mm lettering
for fixing sequins (instead of using scratching nylon thread)
Needle size:
DBxK5 Nm 60 – 65
DB x 1 Nm 55 (singer numbers may vary)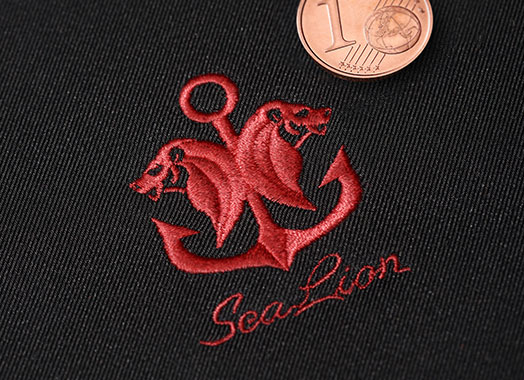 4. Stitch distance break down
Stitch distance break down could look like this. Serafil fine ticket 60-stitch distance 3.0 to 2.5 = 1/10 mm not advised to go lower. Serafil fine ticket 75-stitch distance 2.5 to 2.0 = 1/10 mm not advised to go lower but in some cases up to 3.0. Serafil fine ticket 100 stitch distance 2.0 to 1.0 = 1/10 mm 1.0 this the limit but in some cases can be 3.0. These stitch distances listed above are relative. For larger shapes, the full stitch distance can be applied. The smaller and narrower the shape, the less amount of stitches are needed.because there is not enough space for them.
5. Underlay Stitches
Underlay stitches are the stitches which are placed under the top stitches. The underlay stitching does two things; it connects the topstitching to the backing, which prevents the fabric from moving. Additionally, it stabilizes the top stitches and prevents distortion in the embroidery process. For optimal result, this means that even on the thinnest satin stitch under 1 mm, you should place at least a single line of running stitches. Tie-in stitches and lockstitches need to be placed with care. The standard ones are too large and make knots. Tie-in stitches are used to pick up the bobbin thread, when digitizing small thin satin. For letters or other elements, it is advised to start with small manual stitches as if you were digitizing a running line.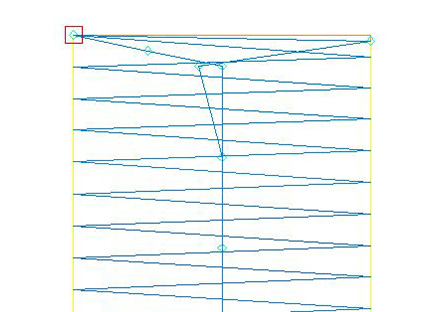 Sample of a satin stitch column and a center underlay stitch line
going through the middle of the column.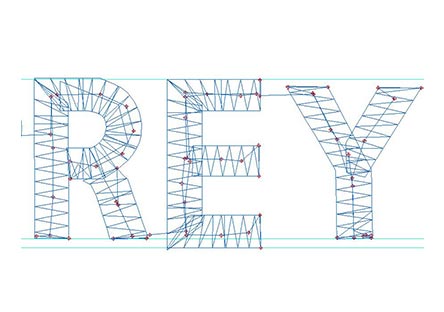 This type of underlay is very important even on very small letters, as shown in the sample of the letters R,E,Y. These letters are 3 mm Tall.
Sample of digitizing data from software.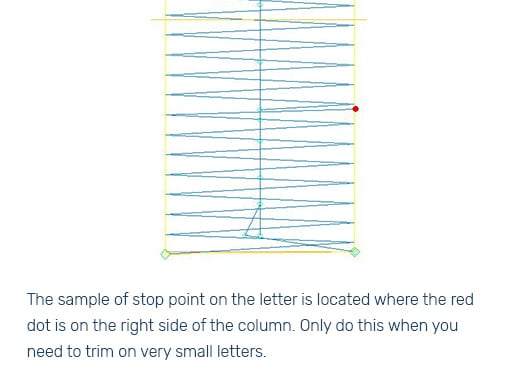 When digitizing a small graphic, start in a place where the tie-in stitches have more space than you can use for the normal tie-in forms. I try to avoid the lockstitch on very small segments. If not possible, you will only have a chance to place one or two stitches to tie the end. Some embroiderers prefer to hand trim between letters instead of using the machine trimmers. This happens when the letters are so small that the machine has no chance to get up to speed before the letter is finished. When trimming on the machine at the place where it is trimmed, the thread pulls down to the back of the embroidered fabric. In the case of very small letters, this can distort them, especially if you end at the base or top of a letter. To avoid this, make the tie and trim code a few stitches up on the satin bar. The best is to trim them out by hand afterwards.
6. Small designs and letters on knits, pique
In most cases, knits are not the best base material for small logos or designs. There are some exceptions but it is hard to get it correctly. The exception would be a very compact design. Here, a thread size of ticket 75 can be used. Small letterings will sink in and disappear in most cases. With texturized surfaces, you would need to use a water-soluble topping to hold the stitches of thread from sinking into the fabric.
7. Bobbin thread
The thicker the bobbin thread (underthread), the more pronounced the topstitching will be. A thicker bobbin thread like a saba 120 or 150 can help hold the thinner weight thread on top of the fabric. This is acceptable if the embroidery is sewn on a thick fabric or a pique knit. The ISABOB 190 is the one to use when embroidering on fine thinner fabrics. Here, the thicker bobbin sizes are not recommend. The thinner bobbin keeps the embroidery fine and not bulky.
8. The correct needles, needle tips, and the correct thread tension must be used.
The thinner thread sizes need smaller needle sizes #65 to #55. In most cases, a RG tip works for most woven fabrics and FFG for knits.
9. Thread tension
This depends on how tight you normally run your machine tension. In most cases, you may have to loosen the top tensions a bit, but not a lot. Make first small adjustments to the tension, as you are embroidering. You will learn how your machine works with the thread tension as you gain experience.
10. Backings
If you believe you have done everything correctly and the result is still not acceptable, then it could be the type of backing which was used. It is better to embroider stretchy materials with a cut away backing, because the backing holds the embroidery in place even after washing. For the woven fabric, use a backing which can be torn away. Problems can occur, when you use multiple layers or very thick backing. Then, the embroidery becomes hard and bulky. Thinner fabrics need lighter backing but the backing should not perforate. If it is perforating during embroidering, then there most likely are fabric movements, which take place even if you cannot see them with your eye. Tip: Adhesive embroidery spray helps to bond the fabric better to the backing. I find this is important when working with small designs.
11. Machine speed
The designs that are made with these thinner thread weights are normally super small, so, slowing down the machine to 700 stitches per minute helps ensure that the thinner needle is not swinging too much. The designs are usually small, therefore the run time is not long.
12. Cleaning

Pattern optimizing or also called cleaning. This is the most important!
Check to see if the cleaning option on the machine is activated, in most cases it is. Here you have to change the setting or turn it off. If you do not, you will see when the design is loaded into the machine, the stitch count will be less. This means stitches are deleted. If the cleaning is set at 0.5 mm, all stitches of this size and smaller are deleted by the system. They say, small stitches are not good for embroidery, but not in the case of working with thinner thread weights.
I enjoy the challenge of creating small embroidery after years of using the standard thread size 40. Using the correct thread and thinner weights has made a big difference.
Always stay up to date
Subscribe to Newsletter
Your message to us
Contact