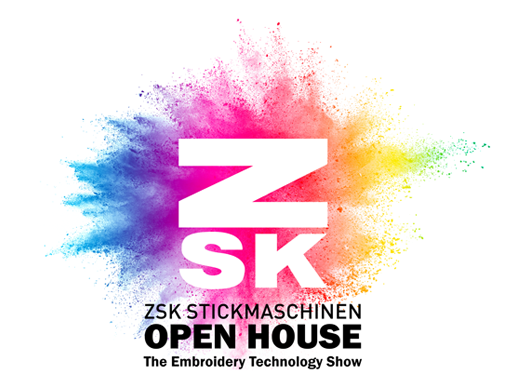 ZSK OPEN HOUSE 2020
We cordially invite you to the ZSK STICKMASCHINEN OPEN HOUSE 2020, the in-house exhibition of our ZSK STICKMASCHINEN, from 18 to 19 September 2020.
Facts and Figures
Worth knowing about the
ZSK STICKMASCHINEN OPEN HOUSE 2020
Where
ZSK Stickmaschinen GmbH
Magdeburger Str. 38 – 40
47800 Krefeld
Opening Hours
Friday, 18.9.2018: 9.00 – 18.00 o'clock
Saturday, 19.9.2018: 10.00 – 16.00 o'clock
Refreshment & Food
For the physical well-being, we again hired a catering company.
All meals and drinks are offered to our trade fair guests free of charge.
Impressions –
ZSK STICKMASCHINEN OPEN HOUSE 2018
Moving pictures? Watch a video on YouTube about our ZSK STICKMASCHINEN OPEN HOUSE 2018.
Arrival
The ZSK Stickmaschinen GmbH is conveniently located on the A57/E31 exit Krefeld garden city and allows access from the north and south. With the motorway junctions to the highways 40, 42, 44 and 46 very good connections for the arrival from the west and east direction are available.
Free parking is available on our premises and the adjacent streets.
Krefeld is well connected by regular regional trains from Dusseldorf, Duisburg and Cologne to the long-distance network of Deutsche Bahn.
From the main train station in Krefeld the tram line 042 (direction Krefeld Elfrather Mühle) leaves every 15 minutes during rush hour to the station Magdeburger Str. The bus stop is about 50 m away from the company premises of the ZSK.
Krefeld is served by the airports of Düsseldorf, Cologne, Weeze and Dortmund. All airports can be reached in a maximum of 1 ½ hours by public transport.
From Dusseldorf airport, the ZSK can be reached in about 20 minutes by taxi.
Always stay up to date
Subscribe to Newsletter
Your message to us
Contact