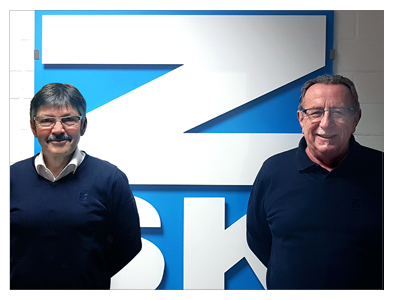 FAREWELL INTO RETIREMENT
JOACHIM FLASSENBERG AND WALTER BIEGELBAUER WILL RETIRE AT THE END OF 2020
At the end of 2020, we will be saying goodbye to our two long-standing employees Joachim Flassenberg and Walter Biegelbauer. Together they are looking back on almost 100 years of active work "with needle and thread" at ZSK.
Succession
Succession within ZSK and a smooth transition is ensured by their colleagues who will on be taking over responsibilities as of 01.01.2021.
Successor of Joachim Flassenberg:
Lorenz Sobizack
Phone: +49 (0) 173 / 1040871
Joachim Flassenberg joined Zangs in 1972. Since 1984, he has worked in various departments at ZSK. After a temporary career change in the years 2005 to 2013, Joachim Flassenberg returned to ZSK in 2013, and works here as area sales manager BeNeLux and DACH until his retirement end of 2020.
Walter Biegelbauer came to Krefeld from Austria in 1973 and also began his professional career at Zangs. He also experienced the decline of Zangs AG in 1983 and then joined ZSK. At ZSK, Walter Biegelbauer held various positions, always focusing on the technical optimization of the machines. Over the last 17 years, he has contributed intensively to the expansion of the Technical Embroidery Machines department and is retiring as head of AWT (Application Technology).
We would like to thank Joachim Flassenberg and Walter Biegelbauer for their hard work over the past decades, the good teamwork and their loyalty to the embroidery machine and the ZSK family.
We wish Joachim Flassenberg and Walter Biegelbauer all the best for the future, especially health and satisfaction.
The ZSK FAMILY