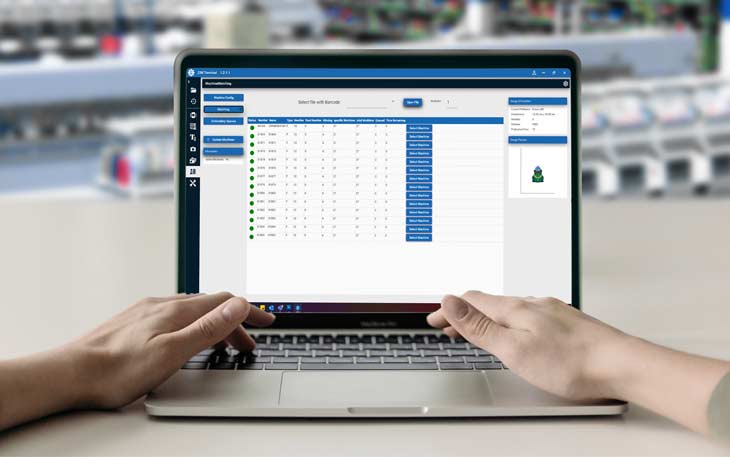 ZSK TERMINAL Pro Take the best out of your machine park!
You have multiple machines but wonder why some of them always stand still? Well, having lots of machines is only one part of having a smooth and efficient production. To really get your jobs done more quickly, you need to reduce the time in between the run time of your machines and treat your machines with some love.
ZSK Terminal Machines helps you to optimize your embroidery files for multi-machine production and to find the best matching machine for the individual jobs. Keep control of your machines wellbeing by using the interactive maintenance plan.
Buy TERMINAL Pro TERMINAL Pro 14 Day Trial
ZSK TERMINAL Pro optimizes production for your ZSK machine park.
It includes all ZSK TERMINAL tools and also prepares embroidery files for production on multiple machines.
An interactive maintenance schedule ensures seamless production and the machine matching tool selects the best machine for a job, reducing downtime. Take full control of your production process with ZSK TERMINAL Pro, meet your deadlines and maintain your high quality standards. Test ZSK TERMINAL Pro today and revolutionize your ZSK machine park management.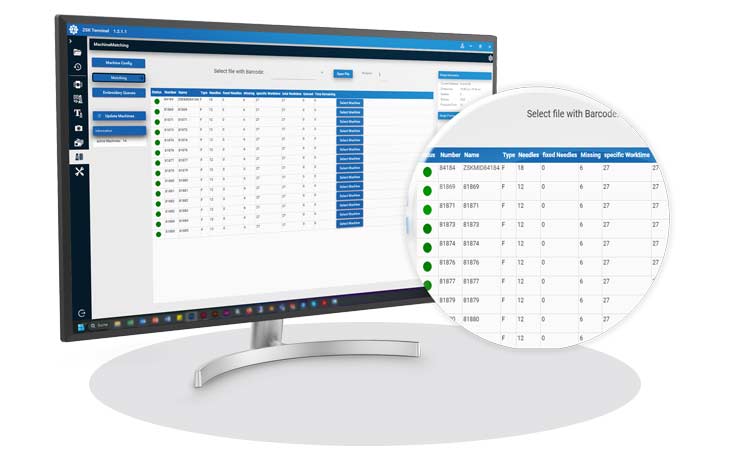 Pick the best machine – with Machine Matching
Want to increase machine park output? Beyond having a lot of machines, finding the best machine for your current order is the next level of minimizing machine downtime and increasing the efficiency of your machine park. The machine matching module helps you to do exactly that – it offers you the best machines for a defined design, based on needle/colour set up, run time, embroidery queue and many more factors.
It allows you:
Management of several ZSK embroidery machines from your machine pool,
Detection of thread cones by barcode scanner,
Assign orders precisely to a machine, e.g., where no needle change is necessary,
Using a queue for each machine for pending orders,
The processing of the queue, such as cancel, pause, move forward etc.,
Thread cone matching - necessary thread cone changes are displayed to the operator.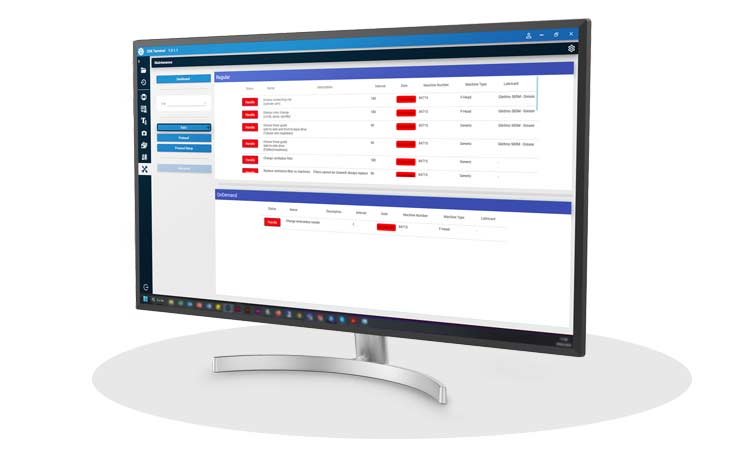 Give your machines the love they need – with Maintenance
You only want the best for your machines, but you are not always there to check yourself? With the maintenance module, you can let every shift register events and ensure correct maintenance of your machines as written in the books:
Managing the maintenance of your machines,
A list of all recommended maintenance,
A selection of the desired maintenance events,
A machine-specific adjustment of the maintenance intervals,
A reminder function in Windows as a popup,
A maintenance book: who, when, what?
No further explanation
– just download Terminal and start right away!
Did not find the right tool for you? Contact us now, we also offer programming of individual tools that suit your production flow.
ZSK TERMINAL Pro
Fully featured to view, modify and convert an unlimited number of embroidery designs.
A fair offer for embroidery companies of all types and sizes!
One time fee
One-time payment 2.500 EUR
Buy once - benefit from a more productive embroidery routine forever.
30 Day Trial
Try TERMINAL for free
Test the full scope of TERMINAL for 30 days. Completely non-binding.