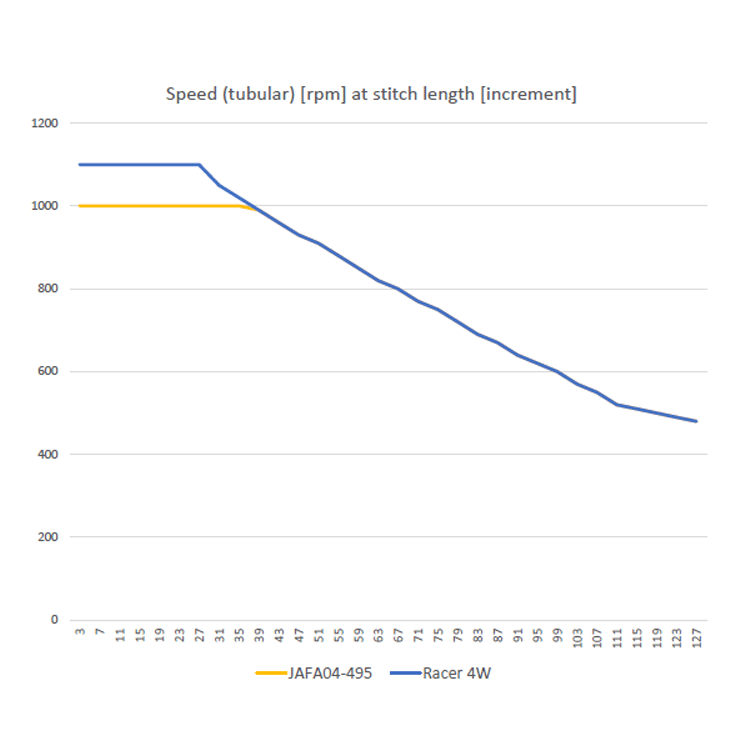 Tech. modification
Performance upgrade: Racer-Series
The Racer series has received a performance upgrade that allows 1100rpm in tubular operation for stitch lengths up to 27Inc.
Up to a stitch length of 39Inc. higher speeds are possible in comparison to the present 1000rpm.

The upgrade is not intended for JAFA machines.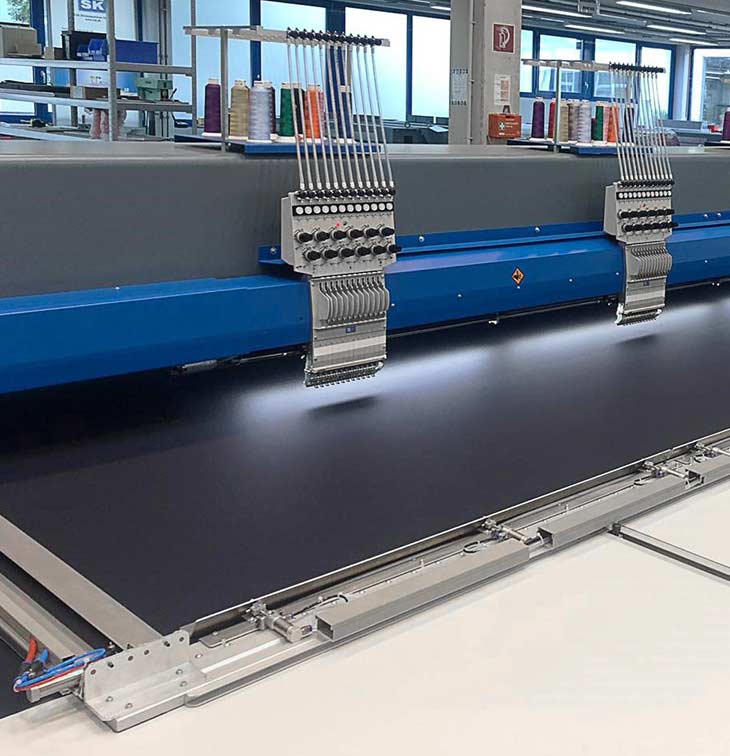 New product
Pneumatic clamping frame with adjustable depth
No more intervention in the production process required, due to fully automated retensioning in the side pass over long distances (up to 7.6m approved).
Low material waste due to continuously adjustable embroidery field depth (1300-1600mm).
Clamping and tensioning of up to 4 layers of material on top of each other.
Clamp stroke adjustable (0-38mm).
During the side pull-through, the material is not deflected but pulled through in a straight direction. For this purpose, the side clamps are moved upwards to avoid contact with the material.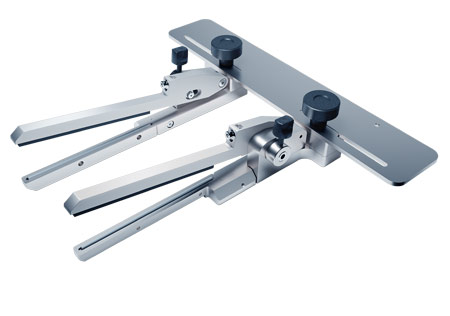 New product
ZSK Quick Clamp (ZQC)
Simple to assemble and easy to use.
Clamping of socks, bracelets and collars, dog leashes, shoulder bag straps and many other products.
Clamping arms are adjustable in height to the thickness of the material.
The distance between the clamping arms can be adjusted to the product and the required embroidery field width (85-190mm).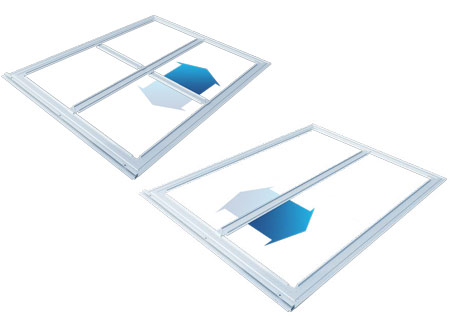 New function
Modular Adjustment
The modular adjustment system allows to adjust the border frame size to the required dimensions.
There is also the possibility of clamping several fabrics in one frame.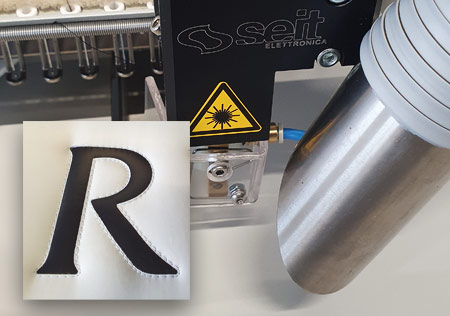 New product
Laser cutting for single head machines
Laser cutting of applications
Multilayer application
Reverse application
Laser boring
Adjustable intensity and cutting speed
Separate laser control unit triggered by commands in the embroidery design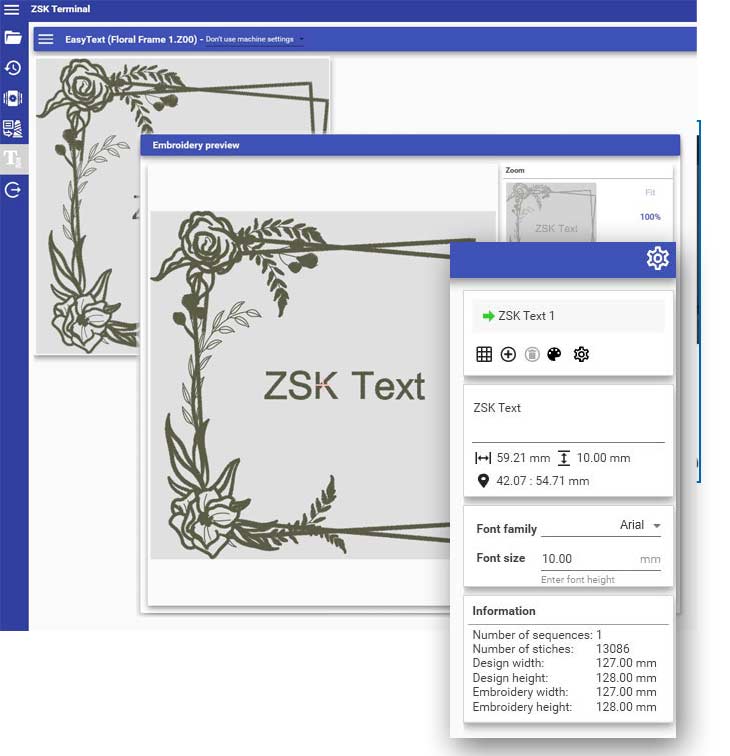 New product
ZSK TERMINAL
Software for beginners
Easy to learn, fewer steps required
Not intended to create new patterns from scratch
It is meant to customize a design
Thread cone matching: Thread cones on the machine are read and a new embroidery file is created according to the order on the machine.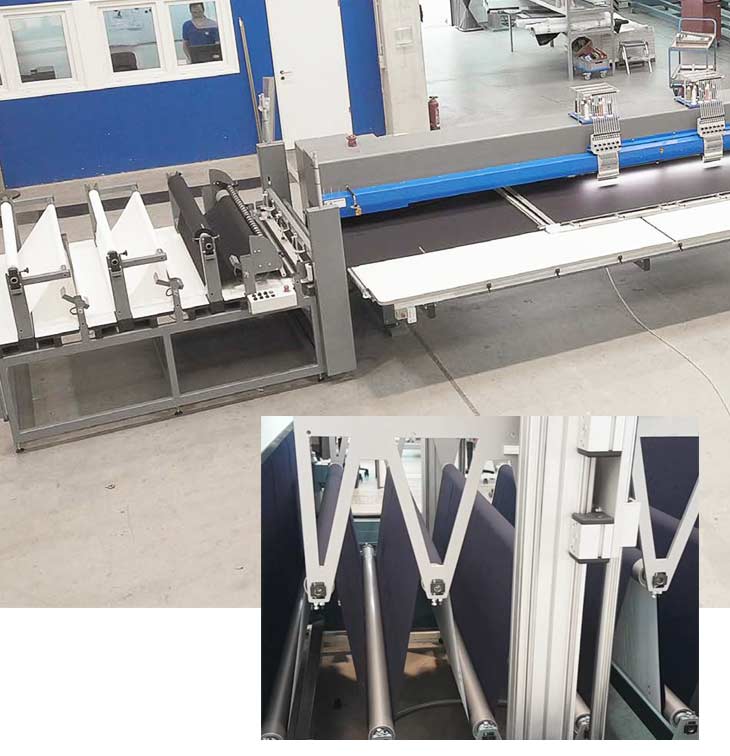 New functions
Fully automated embroidery machine
Automatic Pull-Through from left to right.
Material feeding with up to three fabric layers.
Edge sensors for perfect alignment of the fabric edges.
Pneumatic clamping and tensioning in the border frame.
Scalable buffer storage according to customer requirements (e.g. 10-20m).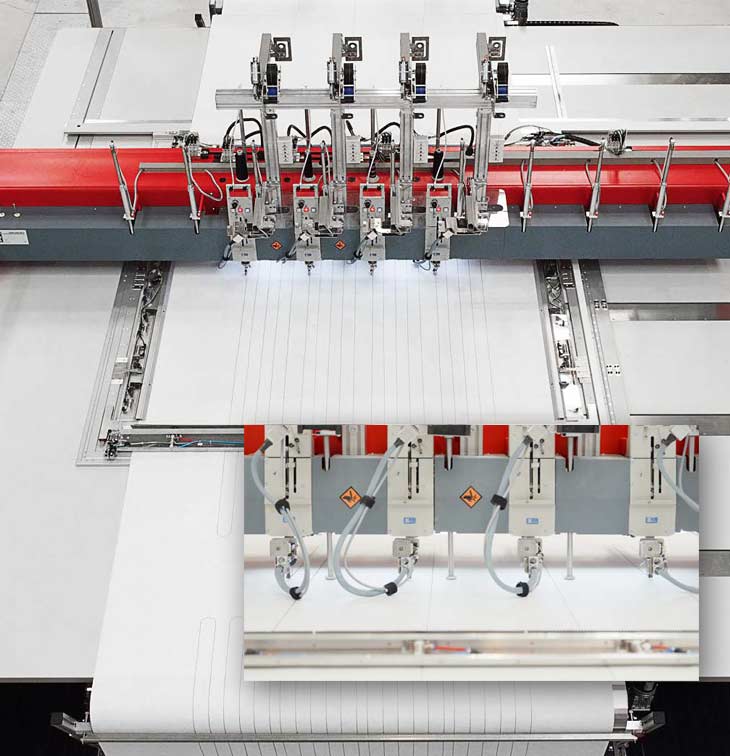 New model
CSHW 0400-300Q SKW
4-head embroidery machine for laying and fixing wire
4 head wire laying machine.
Pull-Through from back to front and reverse.
Allows wire laying over long objects by clamping forward and backward multiple times the depth of the frame.
Pneumatic tensioning of fabrics up to a width of 1800mm and a frame depth of 1800mm.
The unwindig and rewinding fabric rolls follow the side movement of the frame.
New stamps close to the needle secure high accuracy of the fabrics position during retensioning.
Modified clamping for even clamping force over the entire width of 1800mm.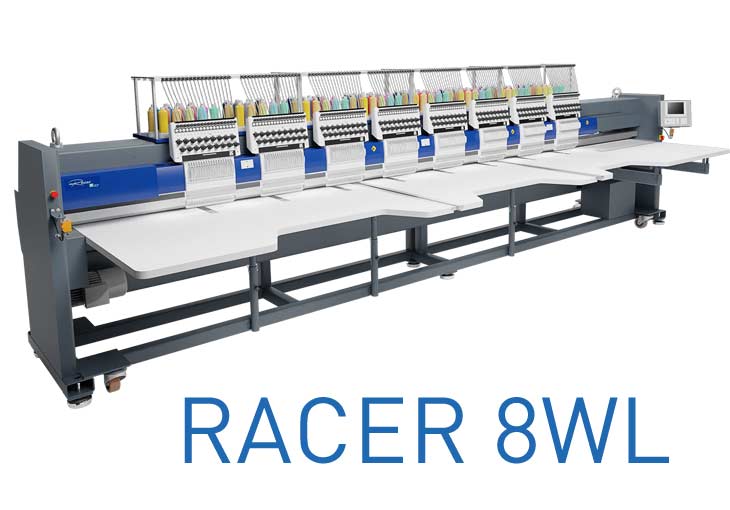 New model
RACER 8WL
Art.No.: 376.570.918
8 heads with 18 needles
sewing field size 3960 x 700mm;
8 heads with 495 x 700mm each
super fast colour change
slimmest tubular arm
cap and single frame embroidery
ideal for 3D embroidery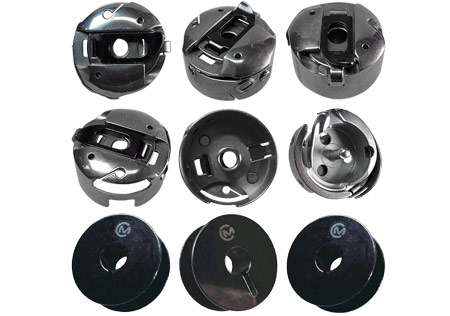 New product
Accessories for sewing machines
ZSK offers bobbins and bobbin cases with higher thread tension, specially designed for leather embroidery
for thick yarn
for bobbin changer
black flap
thread tension up to 160 g
use with rotary hook ZSK FP 573 208
Bobbin Art.No.: 573 223
Bobbin case Art.No.: 570 907
Rotary hook Art.No.: 573 208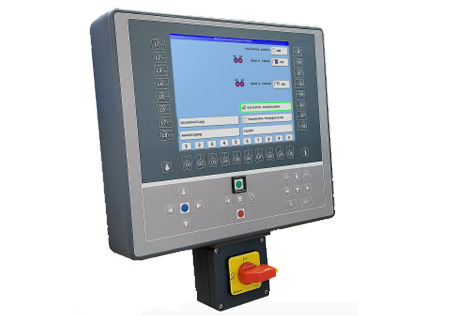 New function
Retraction of Sequins
The retraction function can be activated in the parameter settings of the T8.
Instead of lifting and lowering the sequin device as a whole, only the foot is retracted. For thread trimming the sequin device is not lifted. This increases the performance of the machine.
In addition, the foot is retracted if no further use of the sequin device is required within the next stitches.

Preconditions:
MCP35 with CON-Module; Twin Sequin Device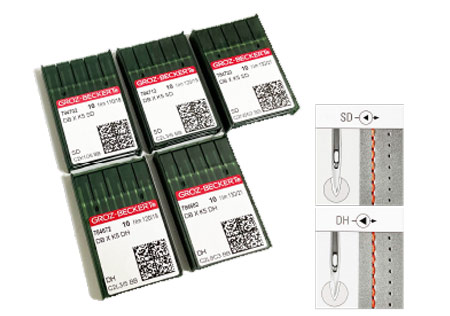 New product
Exclusive needles for ZSK
Groz-Beckert exclusively manufactures needles that are specially adapted to the requirements of leather embroidery.
Needle NM 110 System DBXK5 SD (784702)
Art.No.: 574 733
Needle NM 120 System DBXK5 SD (784712)
Art.No.: 574 734
Needle NM 130 System DBXK5 SD (784722)
Art.No.: 574 735
Needle NM 120 System DBXK5 DH (784672)
Art.No.: 574 731
Needle NM 130 System DBXK5 DH (784682)
Art.No.: 574 732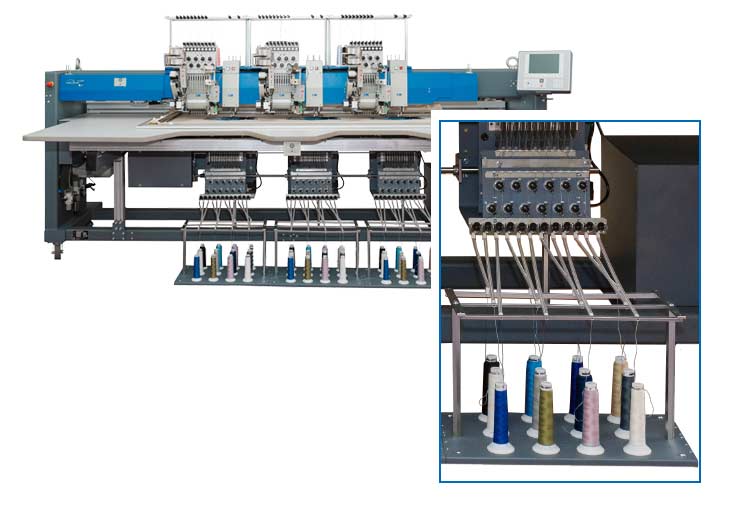 New function
K-Head with 12 colours
While the K-head machines were previously available with a number of 6 colours, we can now also offer our customers K-Head machines with 12 colours.
These machines are equipped with the super fast colour change.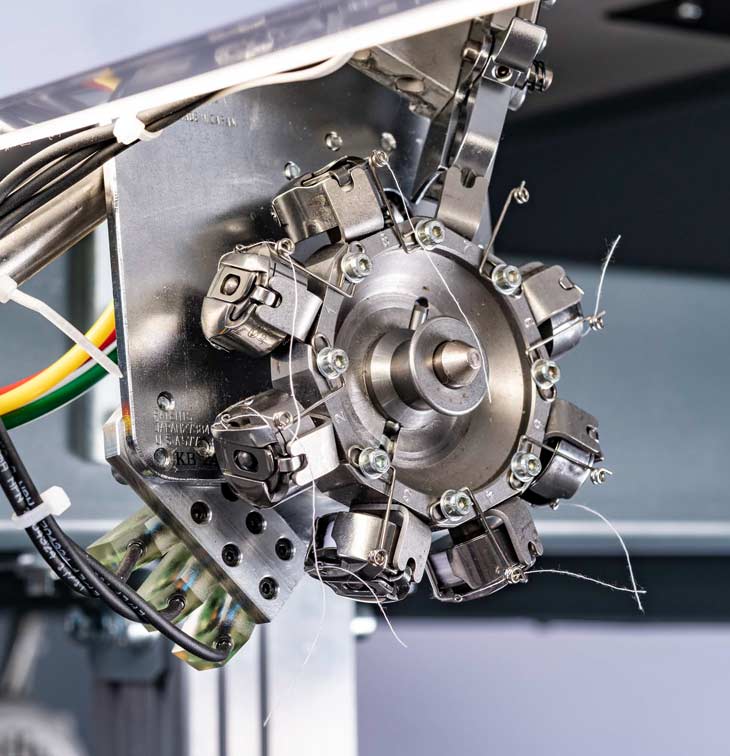 New product
Auto Select Bobbin Changer
Art.Nr.: 270.021.921
The Auto Select Bobbin Changer knows the position of the magazine at any time. In the T8-2 control unit, the needle and bobbin and thus also conductive top and bottom yarn, thick top and bottom yarn for 3D effects as well as the same colour top and bottom yarns can be automatically assigned.
Production times are shortened and possible mistakes can be avoided.
Even with the combination of thin and thick top yarn in a pattern, the Auto Select Bobbin Changer is a great help. The auto select bobbin changer can be installed on all ZSK flatbed machines and (upon request)on tubular machines with the old tubular arm.
If the bobbin changer is installed on tubular machines, caps and tubular goods cannot be produced.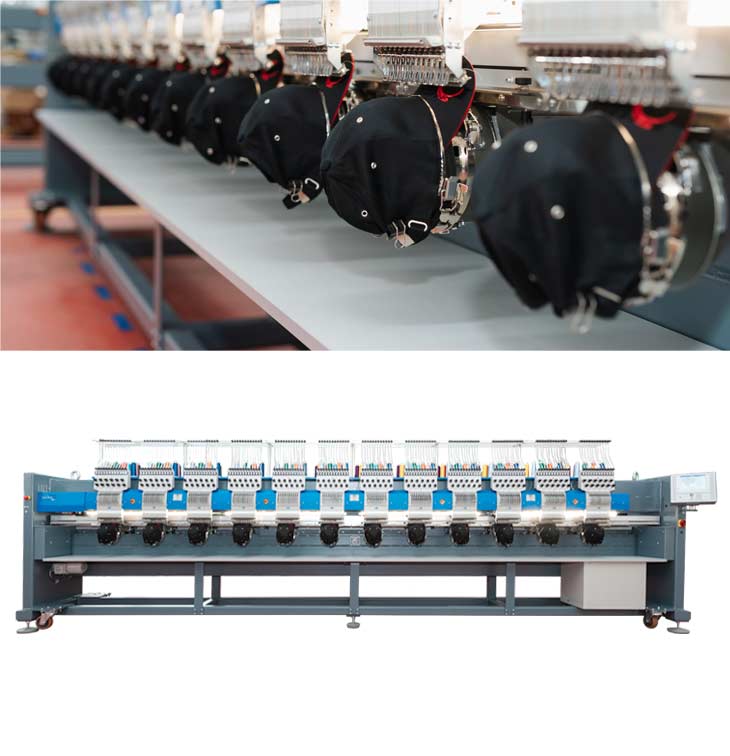 New model
RACER 12 - up to 12 comnponenets at the same time
Racer 12 S
12 heads with 12 needles
up to 1000rpm
super fast colour change
slimmest tubular arm
cap and single frame embroidery
ideal for 3D embroidery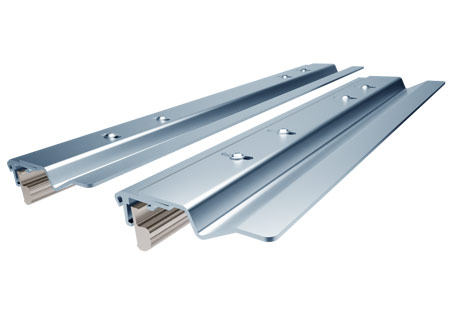 New product
Heavy duty border frame clamps
The developed clamps can be adjusted to variable material thicknesses and are therefore suitable especially for thick materials or multi-layer materials. Moreover, normal materials can be clamped with particularly high tension.
The clamps are available in 200mm and 300mm.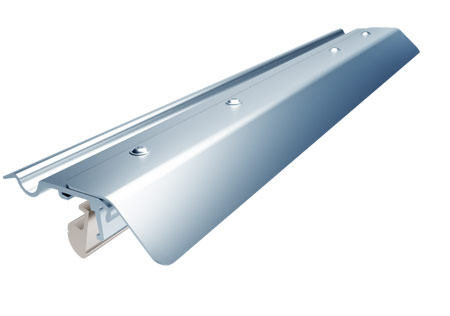 Best Practice
Border frame clamps with deflectors
The new clamps are designed for use on machines with W-head. The deflectors prevent the feeding from getting caught on the frame clamps.
The clamps are available in 200mm and 300mm.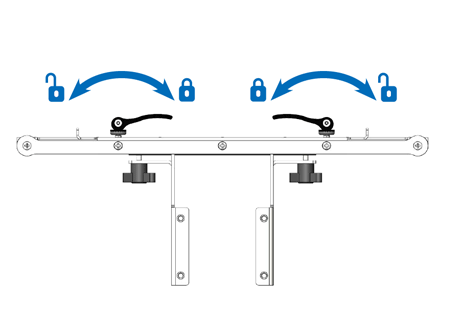 Technical modification
Quick Change System Sprint 8
The Sprint 8's new Quick Change System enables the quick and easy change between different applications such as cap, tubular applications or border frame.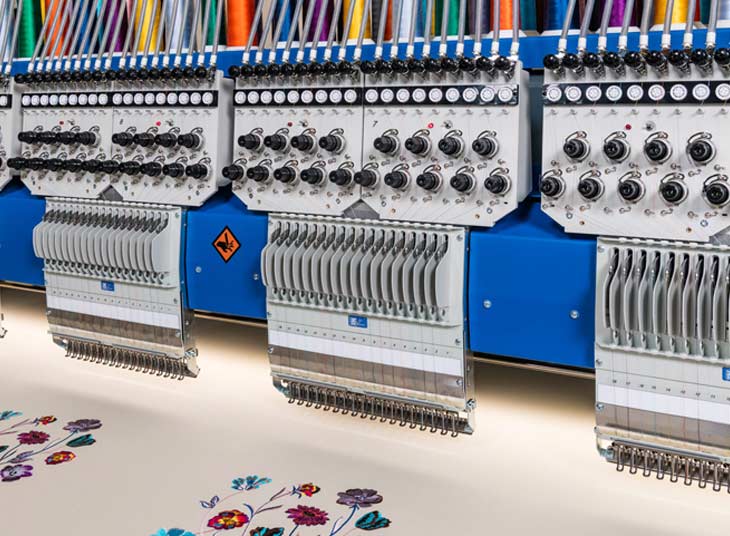 New functions
Flatbed machines with 18 and 24 needles
While the flatbed machines were previously available with a maximum of 12 needles / colours, we can now also offer our customers flatbed machines with 18 and 24 needles / colours.